Digital marketing takes advantage of our increased screen time (nearly 7 hours on average per day) for most of us. Most of us subsist through digital channels.
Our phone alarm wakes us up in the morning. We read the news from an app. We connect with our friends through social media. Order groceries, food, and snacks online. Reserve and pay for outdoor adventures through a website. Our smartphones are our maps, compasses, navigators, and means of communication.
So are you meeting your clients where they are through the varying stages of the Buyer's Journey?
What Is Digital Marketing?
Digital marketing strategy is meeting your client at the right place at the right time online. It's selling a service or product through digital channels. For example, search engine optimization, blogging, paid search, email, social media, and affiliates.
Digital marketing is a relatively new tactic to grow business and make a profit. It wasn't used until the first personal computers were available for purchase. The rise in internet browsing led to email and then searching for services online.
And of course, we can't forget the invention and rise of social media. Networks like LinkedIn, MySpace, Facebook, Twitter, Instagram, and TikTok. Users became comfortable sharing more personal information about themselves. Our information has become part of Big Data because it's stored online. Marketers use this to track our patterns, behaviors, and interests to sell us their products and/or services.
Even when people go out in the wilderness, they still have their phones. They may not be scrolling through Instagram, but they still have access to the internet. Bringing your business and your marketing online exposes you to potential clients.
If your business isn't online, you're missing out on sales, leads, and growing your business.
Digital Marketing Vs Traditional Marketing For Professional Adventure Guiding Services
Choosing between digital marketing and traditional marketing, or using a combination of both depends on your business, your ideal clients, and your goals. We've met a lot of professional adventure guides who rely heavily on word-of-mouth marketing while others get most of their business from social media direct messages.
Traditional Marketing
Unlike digital marketing, traditional marketing is offline. Traditional marketing incorporates television, print, phone, and/or billboards. Just like we can't get away from digital technology, it's hard to avoid newspapers, billboards, and mailers. Your mailbox probably has some sort of advertisement right now. Some of us call it "junk mail." We'd also refer to that as "spam" in our inboxes.
Traditional marketing is the oldest form of marketing. It's where marketing started. As we continue to evolve, so does marketing, and why digital marketing is popular now. Depending on your business, your goals, and your prospective clients, you may use one or both marketing strategies.
Advantages And Disadvantages Of Digital And Traditional Marketing
We really like the way HubSpot differentiates digital marketing from traditional marketing:
"Traditional marketing is an approach in which marketers identify their audience and place ads where their audience will see, hear, or interact with them offline, such as print ads, billboards, or television advertisements. Digital marketing is facilitated online and uses paid or organic ads on social media or search engines, as well as email marketing, influencer marketing, and video marketing, to name a few."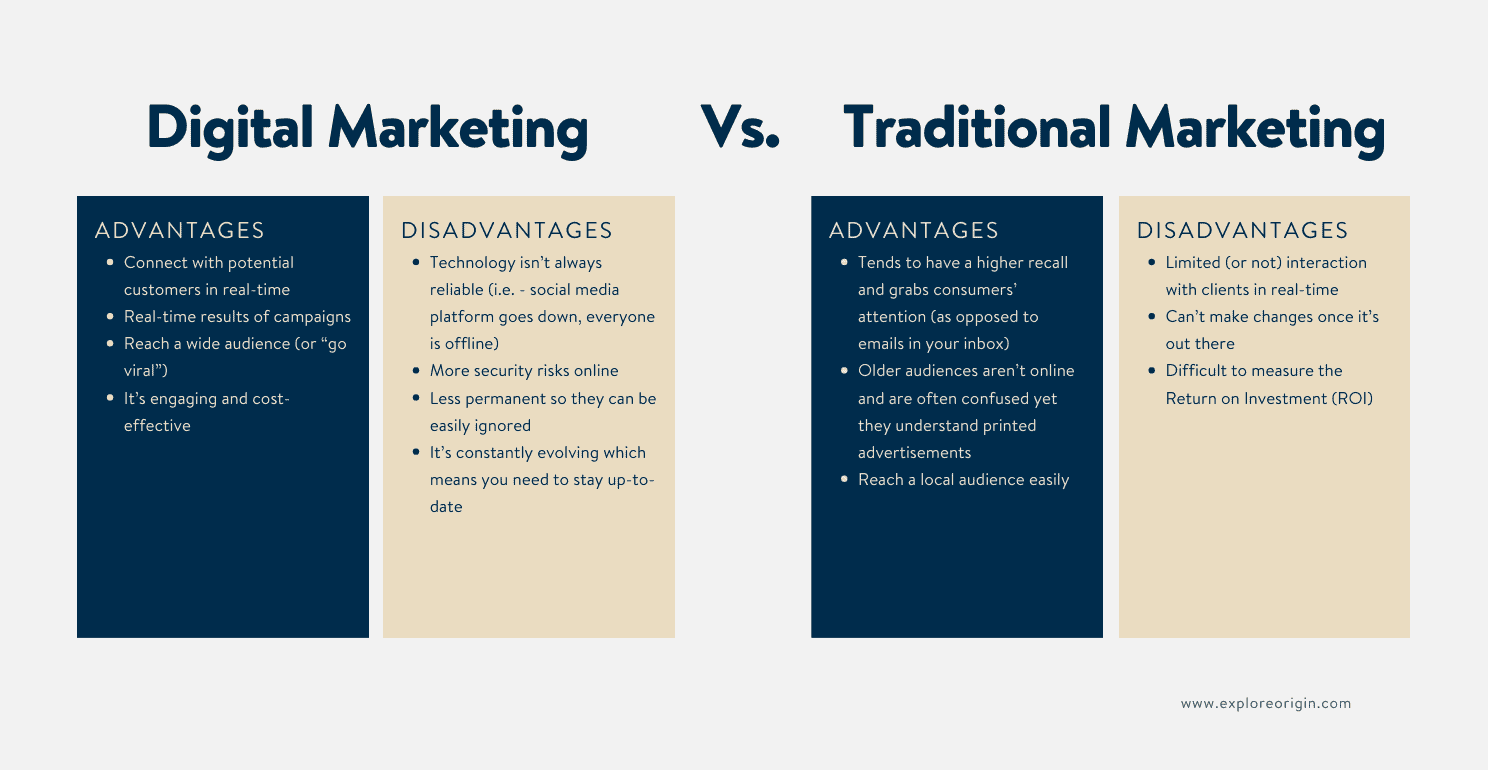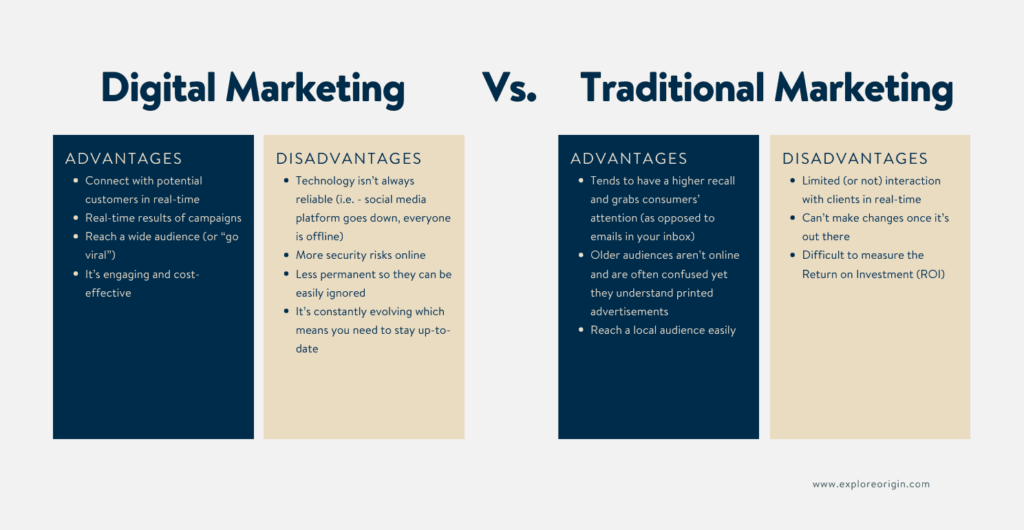 This graphic is a quick way to see the advantages and disadvantages between digital marketing and traditional marketing. It's up to you to decide what method will work best for you.
Why Digital Marketing Is Important For Small Businesses
Meet your clients where they spend their time. If most of us are online, that's where you need to be. Digital marketing reaches a larger audience in a cost-effective and measurable way. It's like word-of-mouth, but on steroids.
It Gives You Data
Have you ever heard the line, "What gets measured, gets managed"? You can't measure the reach or ROI on word-of-mouth. You need numbers to understand what's working and what isn't and then iterating on what you learned.
Digital marketing gives you those numbers.
It Lets You Interact With Your Current And Potential Clients
Digital marketing as a small business lets you interact with your potential clients. You learn what they want from an outdoor adventure. Thus, you can cater your marketing to them and provide an amazing experience when they arrive.
Not only can you reach locals with digital marketing, but you can reach a global audience. As we all know now, we're all anxiously (and impatiently) waiting for the opportunity to travel again. Marketing to those travelers now will bring them to your website. They will book an adventure with you and you will keep up your cash flow.
Alternatively, if you place an ad in the newspaper, you have to hope travelers will see it, and sign up with your tour company. It can definitely work, but there's no automatic way to track that.
It's Contactless
As we've written before, online reservation software will help professional adventure guiding services rebound after the pandemic. Digital marketing for small businesses becomes increasingly important because your potential clients are online browsing for their next outdoor adventure. In fact, consumers will expect a digital experience based on how we've been living the past year.
Health-conscious travelers will book reservations online before booking in-person. To avoid touching pens and paper, give them a contactless solution to book an adventure. If they can't find you online, they'll find one of your competitors instead.
It's Cost-Effective
Using digital marketing as a small business not only gets you in front of a wider audience, but it's also cost-effective. With tour operators' small marketing budgets (if at all), digital technology gives you a leg-up on competitors. One example of this is pay-per-click. You can target your exact audience and only pay when they click on the link. It can go a long way with a minimal amount of spending.
A free digital marketing strategy is social media, which is how consumers are finding new adventure guiding services. Research hashtags, post frequently, and interact with your audience. It will help grow your brand awareness on social media platforms and in return, grow your business.
Digital Marketing Channels
Digital marketing channels are online platforms to advertise your professional adventure guiding services. Using these channels helps grow brand awareness, answers customer questions, and generates revenue.
Not all these channels will be applicable. Research these channels further and decide what will fit your budget, time, and goals.
Organic Search (SEO)
Organic search is when you type phrases into a search engine and that displays results. Search Engine Optimization (SEO) is " the practice of increasing the quantity and quality of traffic to your website through organic search engine results."
For your website to show up on the first page of search engine results (SERP), you need to strategically place keywords on your website that your target audience is searching for. While this strategy is free, it takes time to see results.
P.S. – we've explained how IFrames negatively impact SEO in our blog previously, which you should read if you haven't.
Paid Search
Paid Search is similar to organic search. Consumers type in a search term and the search engine displays results. The benefit of paid search places your ad at the top of the search results. Customers are more likely to click it than sites lower on the page.
Content Marketing
Content marketing is content you create that leads your target audience to your website. For example, blogs, videos, infographics, and ebooks. Not only does this content help with SEO, but you can use this marketing material on social media platforms to drive traffic to your website.
Social Media
Social media digital marketing includes traffic from social media networks like Facebook, Instagram, Twitter, TikTok, Snapchat, etc.
You can build relationships with current clients through social media and expose your business to new ones. You can also use social media to drive traffic to your website and reserve bookings.
Email Marketing
Email marketing tends to have the highest return on investment. It's why the majority of companies still rely on this strategy to generate leads, retain customers, and grow business. This is due to the fact that there are 3.9 billion email users. And this number is expected to grow to 4.3 billion by 2023.
To be able to use email marketing, you need to have your audience's email addresses. Usually, you gather them in an online checkout process or newsletter sign-up. Once they opt-in to receive emails from you, you can then leverage email marketing.
Affiliate Marketing
Affiliate digital marketing is when an affiliate markets your services on their platform. They earn a commission through each completed sale (or booked adventure, in our case). It's tracked through affiliate links from one website to another.
Another way to look at this is influencer marketing. This is a particularly popular method on Instagram. The company pays the influencer based on leads, sales, or clicks.
Display Ads
Display ads are photos, videos, audio, and overlays shown on websites, social media, and other digital channels usually in the form of a banner or box. These ads tend to be lower in cost than paid search because there is more space across the web to place your ad. While paid search uses keyword targeting, display ads do not. Instead, display ads depend on matching your ad with the website visitor's interest.
You don't have to use all these channels. You can if you have the time and budget but most of us run small businesses which means wearing a ton of different hats. Consider which channels will give you the best ROI and start with one. When you've mastered that, add another channel. Continue to track metrics to see what's working and what isn't, then make adjustments as necessary.
Technology rules everything around us. Especially nowadays with the pandemic forcing us all online whether we like it or not. Because of this, professional guiding businesses that integrate digital marketing will be successful in the long run because they're meeting their customers where they're at — online.
This post is part of our Digital Marketing Series:
Intro To Digital Marketing For Professional Adventure Guiding Services
Why The Stages Of The Buyer's Journey Matter For Adventure Tourism
An Introduction to Tourism SEO For Outdoor Guides
Is Paid Search Worth It For Adventure Tour Guides?
Is Display Advertising Useful For Your Adventure Guiding Company?
4 Advantages Of Content Marketing For Adventure Guides
Can Social Media Marketing Help Grow Your Adventure Guiding Business?
Email Marketing For Adventure Guides In 5 Easy Steps