While adventure tourism takes place in the real world, sharing, discovering, and digitally marketing adventures happens online — which is where you want to be. For instance, did you know #Travel is one of the most popular hashtags on Instagram?
According to Think With Google, "The average traveler spends 13% of their time online conducting travel-related activities."
You don't have to be a digital marketing expert but you should understand how to use the stages of the buyer's journey in adventure tourism to sell more experiences.
To successfully sell your outdoor adventure experience, it helps to know at what stage your potential client sits. Are they already aware of your guiding business? Have they booked an experience with you or one of your competitors before? Have they left reviews or referred to your business online?
What is the Buyer's Journey?
The Buyer's Journey is a process that a consumer goes through when purchasing a product or service. In adventure tourism specifically, it's the process your potential clients go through when booking an experience with your outdoor guiding service. In the classic buyer's journey, there are three stages: (1.) Awareness, (2.) Consideration, and (3.) Decision.
We prefer to follow the Digital Marketing Institute's five stages of the buyer's journey:
Awareness
Interest
Consideration
Conversion
Retention
This way, we encompass not just the sale of an outdoor adventure experience but keeping that client for future adventures as well. It helps to visualize this as a funnel. 
At the top of the funnel, your client is the furthest away from booking an adventure with you. As your potential client moves down the funnel (with help of marketing, sales, and customer service), they get closer to making a reservation with you.
Being able to answer these questions will help you pinpoint the stage of the buyer's journey your potential client is at and be able to market to them efficiently. Marketing to them with the right media and tools will assist them through the stages of the funnel, with the goal being conversion.
Buyer Persona
We'll be referencing your "potential client" often, so how do you find out who that is? In a study, "Attracting and Serving the U.S. Adventure Traveler," published by the Adventure Travel Trade Association and Outside Magazine, they identified several U.S. Adventure Traveler Personas. Three of which are incredibly useful: Adventure Grazers, Adventurers, and Adventure Enthusiasts.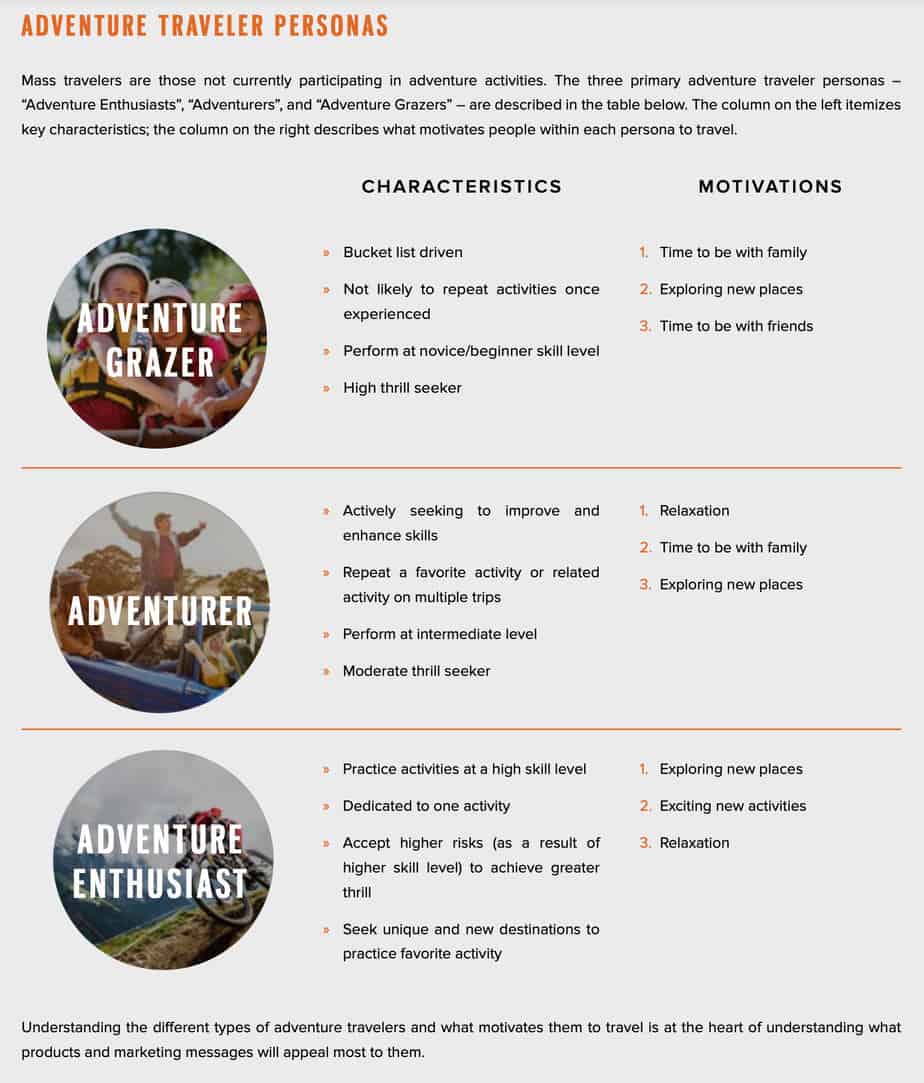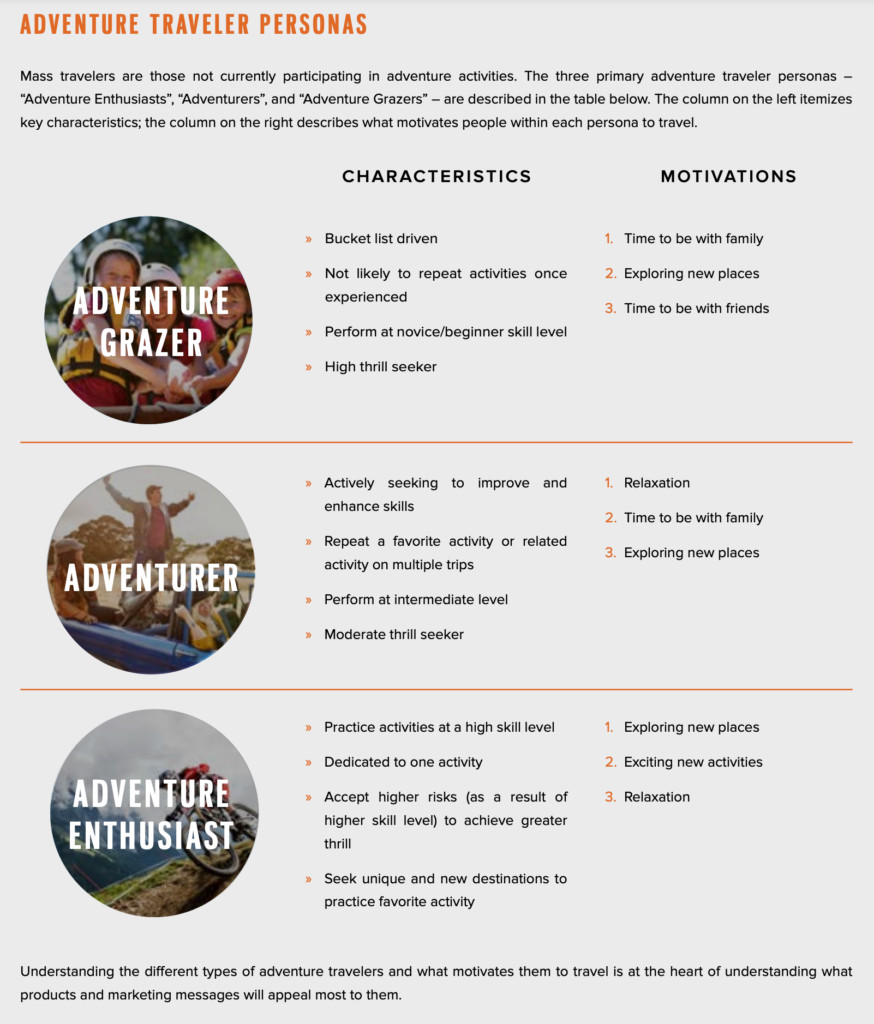 Start with these personas when you go through the stages of the buyer's journey and think about how these relate to your current and ideal clients.
A Deeper Dive Into The Stages Of The Buyer's Journey As It Relates To Adventure Tourism
Awareness Stage, Asking "What is my problem?"
In the Awareness Stage of the Buyer's Journey, your potential client realizes they have a "problem" they want to solve. In adventure tourism, your potential client realizes they want to go on an adventure.
When people realize they have a problem, they usually go to Google to research and learn about the ways they can solve it. For example, Sam starts with a generic search on Google: "best adventures to go on."
At this stage, it's important for consumers to know about your company and the best way to do this is by publishing helpful content that will resolve their problem. They're looking for more surface-level solutions. They're reading blogs or e-books or scrolling through social media.
Tip: Create bite-sized content to target your potential clients as they're in the awareness stage.
A blog post with keywords ("best adventures to go on") can help your website appear in the search results, for instance. Also, posting content from your blog on social media in easily consumable pieces is another way to grow awareness about your company.
In this stage, it's not a guarantee they'll become a client because they're simply searching. They don't have the intention of booking with you just yet. A potential client in the first stage ("what is my problem?") will likely disregard pricing information (last stage) for your adventure.
On the other hand, if they find your content helpful or interesting, they'll move down the stages of the buyer's journey funnel. A prospect in the consideration stage ("how do I fix it?") may start following you on social media or download an ebook from your website.
Make sure you're creating content that starts conversations and creates meaningful relationships with your ideal clients without being too salesy.
Interest Stage, or Asking, "How do I fix this problem?"
The Digital Marketing Institute says, "The Interest stage represents the moment when the consumer is looking for options that will help solve their problem. At this stage, the consumer has a selection of ideas in mind but will need more information and experience to make a decision."
In other words, potential clients are now actively searching for businesses that will take them on a guided adventure. They will conduct specific research by reading reviews and blogs and visiting outdoor adventure guides' websites to learn more about different experiences.
During the interest stage of the buyer's journey, it's important to gain consumers' trust. You can do this with how-to videos and blogs. Videos are an increasingly important piece of content to use because a lot of people engage more with videos than text.
If you can create how-to videos that can help solve a potential client's problem, you not only become an authoritative figure but you become trustworthy (and memorable) when it comes time for them to book an outdoor adventure experience.
Blogs are a great piece of content to target consumers in the awareness and interest stage of the buyer's journey because Google can crawl, index, and display it in search results.
Tip: Blogs can be used to promote your business on other platforms like Facebook, Twitter, Pinterest, etc.
This stage is important for your business because you need to make sure you're selling the right thing (outdoor experience) at the right time (when they're ready to book) to the right person (your ideal client). Appearing frequently in their searches (through Google or on social media platforms) means you'll be top-of-mind more than other adventure tourism businesses.
Consideration Stage, or asking, "Are you right for me?"
In the consideration stage of the buyer's journey, your potential client knows about your guiding business but they're wondering, "Are you right for me?". They think you might be able to answer their adventure needs but they also have other adventure guiding companies they're considering.
In this stage, the potential client has researched ways to resolve their problem. They know they want to go on an adventure and now they're researching the who, what, when, where, and how. For example, they read a couple of blogs about the best adventures, narrowed down their search to backpacking trips in Colorado, and are now looking for businesses that offer this.
If that's something you offer, you'd want to make sure you appear in their research. Once they clicked on your website, you want to come across as an expert in backpacking. To do this, post how-to articles and videos, blogs, guides, and infographics.
If your potential client moves down the funnel — they sign up for your newsletter — this means you have their attention. The earlier stages are there to educate your prospect.
This stage is more proving that you're the answer to their problem.
This is also called "lead nurturing," but really, you're there to establish trust and build a relationship with them. You can do this through email marketing, retargeting, and social media. Essentially, you want to become a person to them, not just a faceless brand.
Once you've become that person your prospects trust and just as importantly, likes, you need to nudge them to book that backpacking trip in Colorado. This is the part where you sell to them. And it can look like a compelling offer or a call-to-action.
A content example of this is a pros and cons list of going on solo-backpacking trips:
There are some adventure-seekers who are comfortable going out on their own and learning the hard way how to do certain things. Providing your prospects a comparison guide between backpacking by themselves or with a guide could prove to them that it's in their best interest to join you for a backpacking adventure.
Conversion Stage
In the conversion stage of the buyer's journey, the consumer is ready to book an outdoor adventure experience with you. They've done all their research, and based on their emotional and/or functional needs, your guiding business meets the quota.
Your role in this stage is to get them to finalize their booking through call-to-actions, booking buttons, and creating a sense of urgency. An example of this is coupons/deals.
Everyone loves a deal. And by providing a coupon for a limited time, some prospects can feel like they need to get on this deal before it's over and so that they don't miss out on this offer. This also helps with any price objections someone may have when it comes to paying for the experience.
It's also important to make sure the path to purchase is simple and easy. Having a simple user interface will not only benefit your client but you'll reap the rewards by selling your guiding experience.
Retention Stage
We don't think marketing stops once a prospect becomes a client. We think it's important to continue developing a relationship with your clients so they become your biggest advocates. You need to go above and beyond their expectations by providing excellent customer service and an unforgettable experience, and creating a real relationship. 
According to the Digital Marketing Institute, "In this stage, you are addressing an already convinced consumer who thinks your product is great for them, but you still need to keep them satisfied and create a desire to come back to your product."
To do this, you need to learn more about your current clients and keep them engaged. Examples of this are email marketing, loyalty programs, extra benefits, and live chat for customer service. By providing them with more value, you'll keep them as loyal customers who will inevitably help in your word-of-mouth marketing.
Connecting The Different Stages Of The Buyer's Journey
Let's put ourselves in the position of someone going through the stages of the buyer's journey.
Awareness
Sam regularly loses track of time scrolling through Instagram, living vicariously through photos and videos of friends and strangers going on epic adventures. After getting lost on #adventure for thirty minutes, Sam realizes she really wants to go on her own adventure.
She's not sure what kind of adventure she wants to go on just yet so if you were to show up on #adventure on Instagram with a post of someone backpacking through Colorado, she may 'like' the picture, and move on. 
Interest
A day or two later, Sam is scrolling through Instagram again and sees more posts about backpacking through Colorado. She soon realizes that this is the kind of adventure she wants to go on.
It's at this stage where she starts looking for more information about backpacking in Colorado. She finds some blogs and reads through them. She also starts to see more ads on Instagram and Facebook about backpacking.
Utilizing SEO best practices, your blog shows up in the search results for Sam.
Consideration
With a clever title, Sam clicks on your blog's link. This is how she becomes aware of your backpacking guiding business. 
A week or so later, she starts to see ads about your guided backpacking services on other websites as she continues to search for backpacking guiding businesses. She clicks on one of these ads and it brought to your website again.
You've brought her to an in-depth blog about the different kinds of gear you need to backpack. You include a how-to video about testing gear within the blog. As she goes to click out of the website, your exit-intent pop-up appears, and Sam fills in her name and email address. 
Conversion
As soon as Sam submits her email address for your newsletter, your email marketing platform provider sends her an automated email thanking her for subscribing and includes a 20% off coupon for her first backpacking experience through you if she books within the next 24 hours.
She clicks on the Call-to-action button in your email and lands on your site at 9:00 PM. Because she's been on your site before, she knows the exact backpacking trip she wants to book with you.
With the simple user interface you have, she is able to find the date that works best for her, read all the details, and book within a few clicks.
Retention
After Sam comes home from her backpacking trip, your email marketing platform sends an automated email thanking her for using your services and politely asks her to provide feedback.
At the same time, Sam posts a picture of her backpacking on Instagram and tags your business. You immediately comment and thank her for joining.
Because she's subscribed to your newsletter, you can send her helpful tips and information for backpacking. You can also send her deals for future trips with you.
In a perfect world, your customers would move through each stage in a straight line. The buyer's journey is rarely a straight line and is more of a long and winding road. Google also says, "It ranges from days to months, stretches across thousands of touchpoints, and generates a mountain of data in the process."
Outdoor adventure guiding companies now need to win over their potential clients at the very early stages of the buyer's journey in order to promote trust and personal connection all the way to turning customers into advocates.
Knowing this, make sure to create content and be there for your customers in every stage of the buyer's journey.
This post is part of our Digital Marketing Series:
Intro To Digital Marketing For Professional Adventure Guiding Services
Why The Stages Of The Buyer's Journey Matter For Adventure Tourism
An Introduction to Tourism SEO For Outdoor Guides
Is Paid Search Worth It For Adventure Tour Guides?
Is Display Advertising Useful For Your Adventure Guiding Company?
4 Advantages Of Content Marketing For Adventure Guides
Can Social Media Marketing Help Grow Your Adventure Guiding Business?
Or download our free Digital Marketing Ebook created specifically for outdoor guides.