As of today, "When can we travel again?" is the #2 question in Google travel trends. Travel-related searches are starting to rise again so it's safe to say that people are ready to explore somewhere new.
As a tour operator, it's important to know what's guiding travelers' booking decisions and how to raise their comfort levels, especially in the post-Covid-19 world. The top three trends experts see are:
Travelers staying local
Traveling by car
Prioritizing safety
Recommendations throughout the travel and tourism industry suggest:
Posting on social media and your website the safety measures your business is implementing
Creating a flexible rebooking/cancellation policy
Managing reviews
Creating personalized/small group tours
Adopting contactless technologies or procedures
Changes in Travelers' Booking Decisions
While numbers suggest that travelers are starting to fly more (87,534 on April 14th to 441,255 eon June 7th), 48% of Americans are not comfortable flying until the pandemic is over. This impacts tour operators significantly when there aren't people coming in from out-of-state to explore. This suggests that tour operators will need to rely heavily on local tourism instead.
Travelers Staying Local
Bloomberg notes there has been steady growth (from ⅓ in February to more than 50% in May) of Airbnb bookings within 200 miles of the guest's home. In other words, people are booking Airbnbs that are a tank-of-gas away. In an interview with Airbnb's CEO, Brian Chesky, he says, "Travel in a post-Covid world is shifting 'from airplane to car, big city to small location, hotel to home.'"
For small tour operators, it's important to reach out to your local and regional communities as this could become your market for the foreseeable future.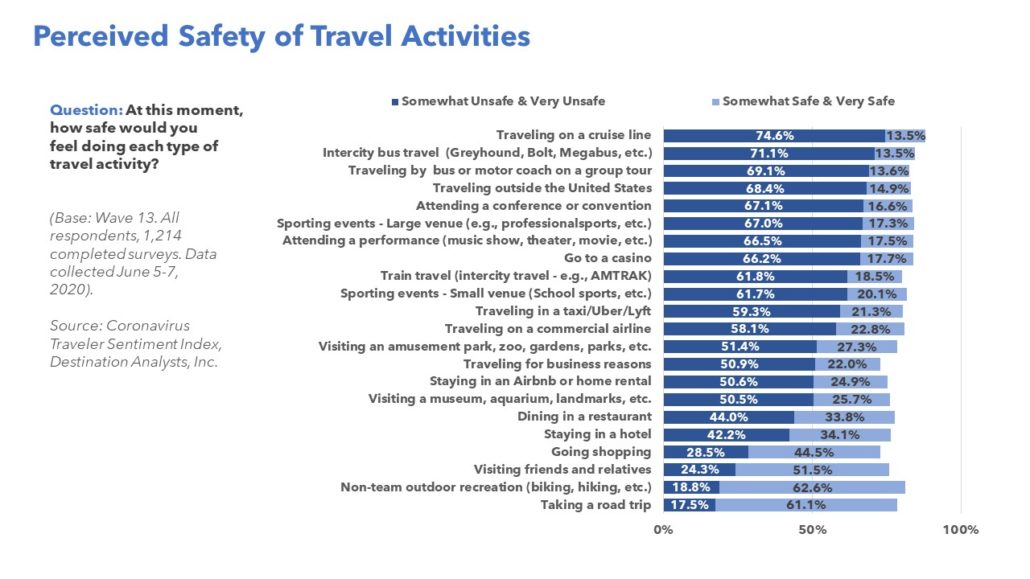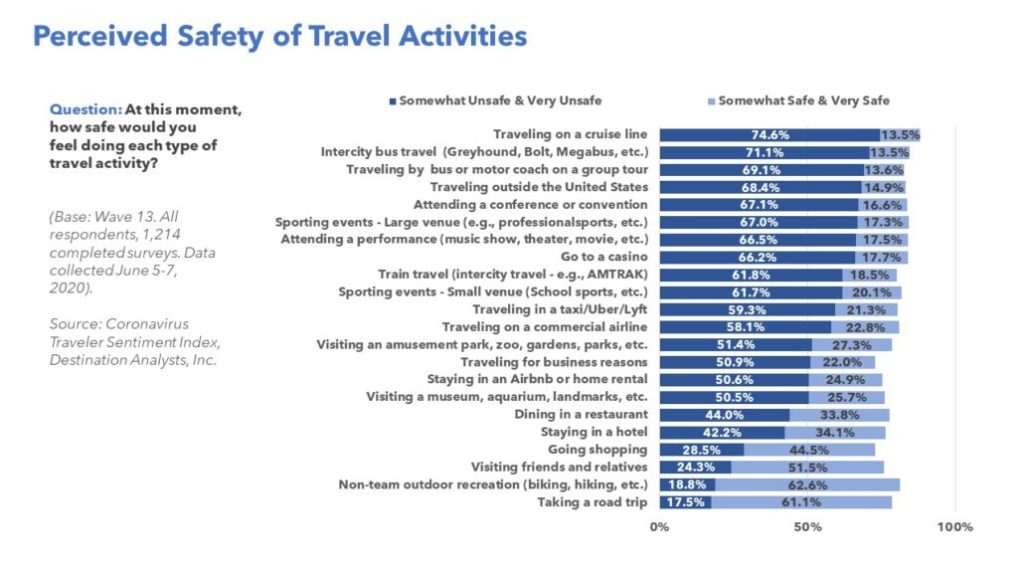 Tourists Traveling By Car
Arrivalist's Daily Travel Index measures consumer road trips of 50 miles or more throughout the United States. Based on their graph, road trips are steadily increasing from the end of March. Compared to last week, there is a 9.3% increase in road trips over 50 miles.
According to Destination Analysts, travelers perceive taking a road trip is the safest form of travel right now as well as the most relaxing. The safest activity perceived by travelers is non-team outdoor recreation which likely means more people will be driving to enjoy open spaces.
Safety is Travelers' Main Concern
Safety considerations are still top-of-mind when it comes to traveling. This includes everything from the destination to the hotel to sanitation during guided tours. Destination Analysts state the majority of Americans will travel to beaches, the outdoors, or rural areas for their next vacation. This is probably because these are the easiest places to socially distance.
Additionally, PwC reports 43% of consumers surveyed are likely to spend more money for physical distancing on the plane. 60% of families with children said they will spend more and 55% of consumers between the ages of 18-40 will pay more to be physically distanced from others on a plane.
In the same report, nearly 75% of respondents felt safer when they saw employees wearing personal protective equipment (PPE) and almost 85% said their decision to travel will depend on safety communications from hotels and airlines. To add to this, 40% of respondents said they were unsatisfied with the communications they were currently receiving from companies regarding safety protocols.
How to Raise Travelers' Comfort Levels
Tour operators have two choices: Wait for tourists' comfort levels to rise naturally as the pandemic plays out or take a proactive approach in raising their comfort levels yourself. Here are some ideas if you want to boost traveler confidence in a post-COVID-19 era.
Post Safety Updates and Communications Online
As previously mentioned, the majority of travelers want to see evidence of safety precautions taken by companies. You need to communicate frequently and clearly about your safety protocols and included trusted sources like the CDC that guide your safety decisions.
In a report offering recovery advice for the travel industry by IdeaWorks Company, it states, "The messages developed by travel companies through advertising, website content, and online materials will also have a major influence on creating confidence for travelers." They further go on to say that the most important safety factor is how your employees – your guides – will interact with customers. Because your guides will interact with customers face-to-face daily, they share the same exposure risk as guests.
Therefore, posting on social media and on your website the safety precautions your guides are taking and clearly communicating that with your employees will not only boost employee confidence but also traveler confidence that your organization is taking their safety seriously.
Examples of safety measure your company is taking could include:
Routinely disinfecting equipment and gear
Regularly washing your hands
Accessible hand sanitizer stations or bottles
Required face masks or coverings by employees and/or guests and what kind of masks people can use for recreation
Small group sizes or limiting different households on one tour
FAQs regarding COVID-19 questions
Up-to-date local regulations on travel/outdoor recreation
Tour operator life is complicated Use a booking platform that simplifies it.
Tour operator life is complicated Use a booking platform that simplifies it.
Incorporate a More Flexible Rebooking/Cancellation Policy
In the same report by IdeaWorks Company, it states that both car hire companies and airlines are easing their rebooking and cancellations policies during the pandemic. For example, some airlines are waiving change penalties which often range from $125-$300 and non-refundable tickets being changed to non-transferable travel credits for future use.
As Airbnb notes, guests are uncertain about the future of travel and recommend switching to a "flexible or moderate one." This gives their guests more confidence to book knowing they can cancel without losing money.
Similar to car rentals, airlines, and Airbnb, tour operators can incorporate a more flexible rebooking or cancellation policy to boost the confidence of tourists who aren't sure if there will be a second wave of COVID-19 or if the tour will be canceled.
Ask for and Respond to Reviews
When tourists are researching their next adventure, part of that research is reading reviews. In fact, 82% of consumers read online reviews of local businesses. If consumers are not already familiar with your company, they will look to their peers' evaluations and feedback instead. This is called "social proof."
Right now, consumers want reassurance that their safety is prioritized. They want to know they are making the right decision. If reviews show otherwise, they are less inclined to sign up for a tour with you.
It's important for your company to manage its reputation online. This means responding to all reviews (both negative and positive) by guests because 97% of consumers read businesses' responses to reviews. During this downtime, you should share previously posted reviews on social media to encourage tourists to book with your company. As people start using your services again, ask them to post a review as well.
Create Personalized or Small Group Tours
The United Nations World Tourism Organization (UNWTO) released Global Guidelines to Restart Tourism. In it, they recommend several actions for tour operators and travel agencies. Among these recommendations, they suggest creating personalized and small group tours and packages.
As we've seen in the other studies, travelers want to be in open spaces with fewer people. For tour guides and operators, this means restructuring your current offerings to allow for household-only tours. Based on the percentage of travelers willing to spend more money on airlines for more physical distance, you can also expect some tourists to feel comfortable spending more for a private tour.
Depending on your county's policies, your only choice may only be to serve groups of 10 or less.
Adopt Contactless Technologies or Procedures
The U.S. Travel Association issued guidance for the travel industry to promote the health and safety of all travelers. There is a multitude of actionable steps tour operators can take and one is adopting contactless technologies or procedures. This helps limit the transmission of the virus and creates a positive travel experience for both employees and tourists.
They give examples of these measures:
Ticketing
Identification
Check-in
Payment for goods and services
Automated ordering and pick-up for food and services
A broader range of travel and hospitality amenities
Some or all of these may apply to your business. Most importantly, think about how to creatively limit physical interaction between your staff and customers while at the same time providing great service.
No one knows how the future of the travel and tourism industry will unfold but we can take proactive steps now to provide amazing service and experiences to travelers looking for their next adventure.