The second-best thing to exploring the outdoors is reading about others who have done it and left with an amazing story. We can learn through their accounts, histories, mistakes, and glories while nestled in our beds or sprawling across the couch.
You've probably already read "Into The Wild," "Into Thin Air," and "A Walk in the Woods." So here are our top five favorite outdoor books that tend to fly under the radar. These books will leave you with a new appreciation of nature and the earth and you'll walk away with a newfound sense of our place in it all. Enjoy.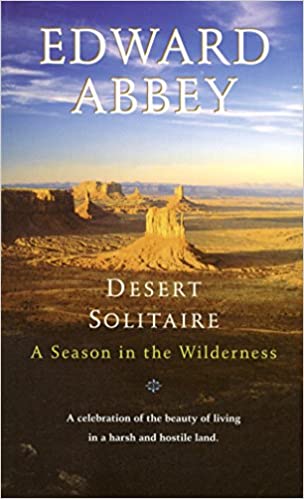 Book: Desert Solitaire
Author: Edward Abbey
Good Reads Rating: 4.22/5
Good Reads Description:
First published in 1968, Desert Solitaire is one of Edward Abbey's most critically acclaimed works and marks his first foray into the world of nonfiction writing. Written while Abbey was working as a ranger at Arches National Park outside of Moab, Utah, Desert Solitaire is a rare view of one man's quest to experience nature in its purest form.
Through prose that is by turns passionate and poetic, Abbey reflects on the condition of our remaining wilderness and the future of a civilization that cannot reconcile itself to living in the natural world as well as his own internal struggle with morality. As the world continues its rapid development, Abbey's cry to maintain the natural beauty of the West remains just as relevant today as when this book was written.
Quote:
"Wilderness is not a luxury but a necessity of the human spirit, and as vital to our lives as water and good bread. A civilization which destroys what little remains of the wild, the spare, the original, is cutting itself off from its origins and betraying the principle of civilization itself."
Why you should read it according to a reader:
Abbey's sardonic and borderline crusty attitude kept things thoroughly entertaining while lashing environmental tourism and musing about the cosmic allure of Arches National Park. – Brian W.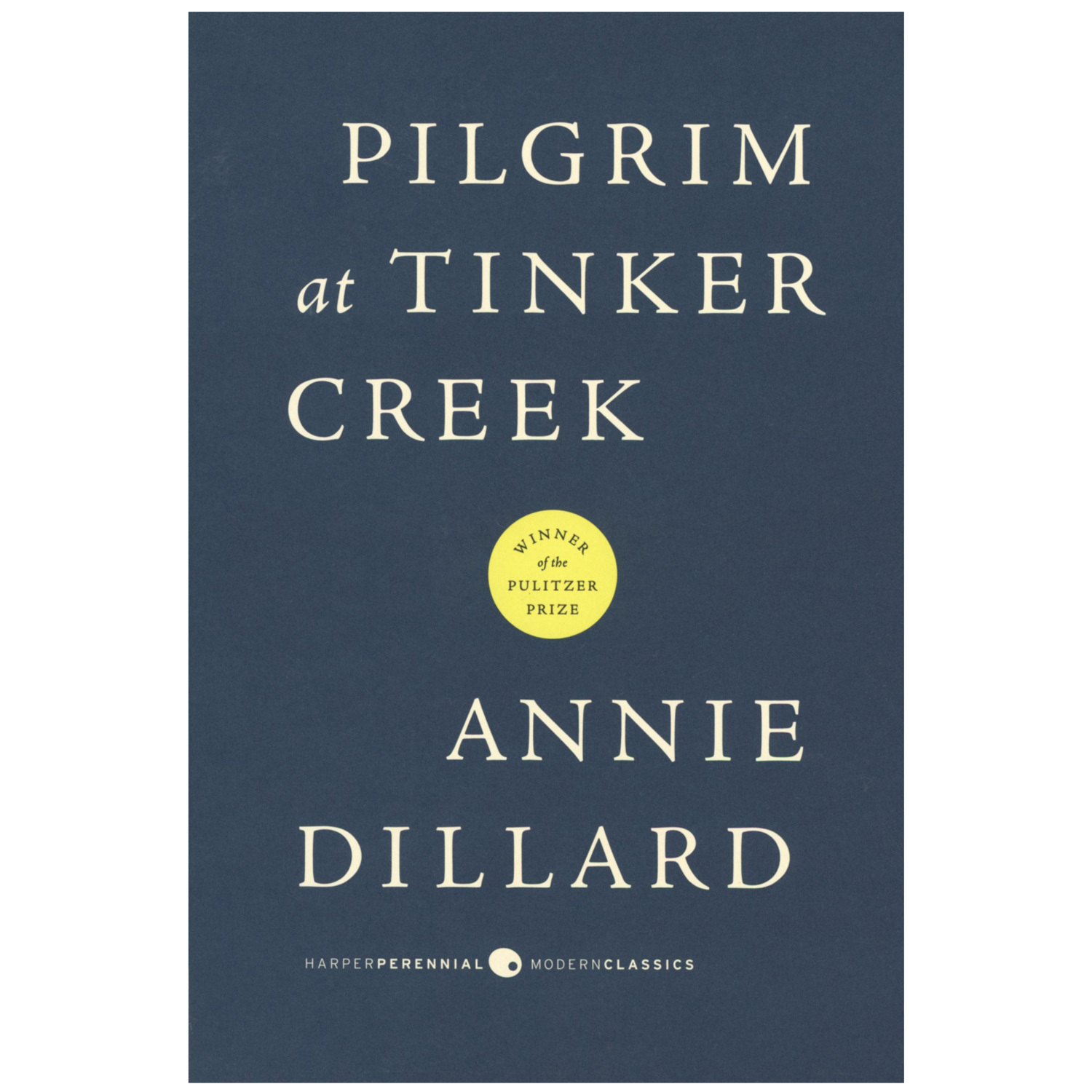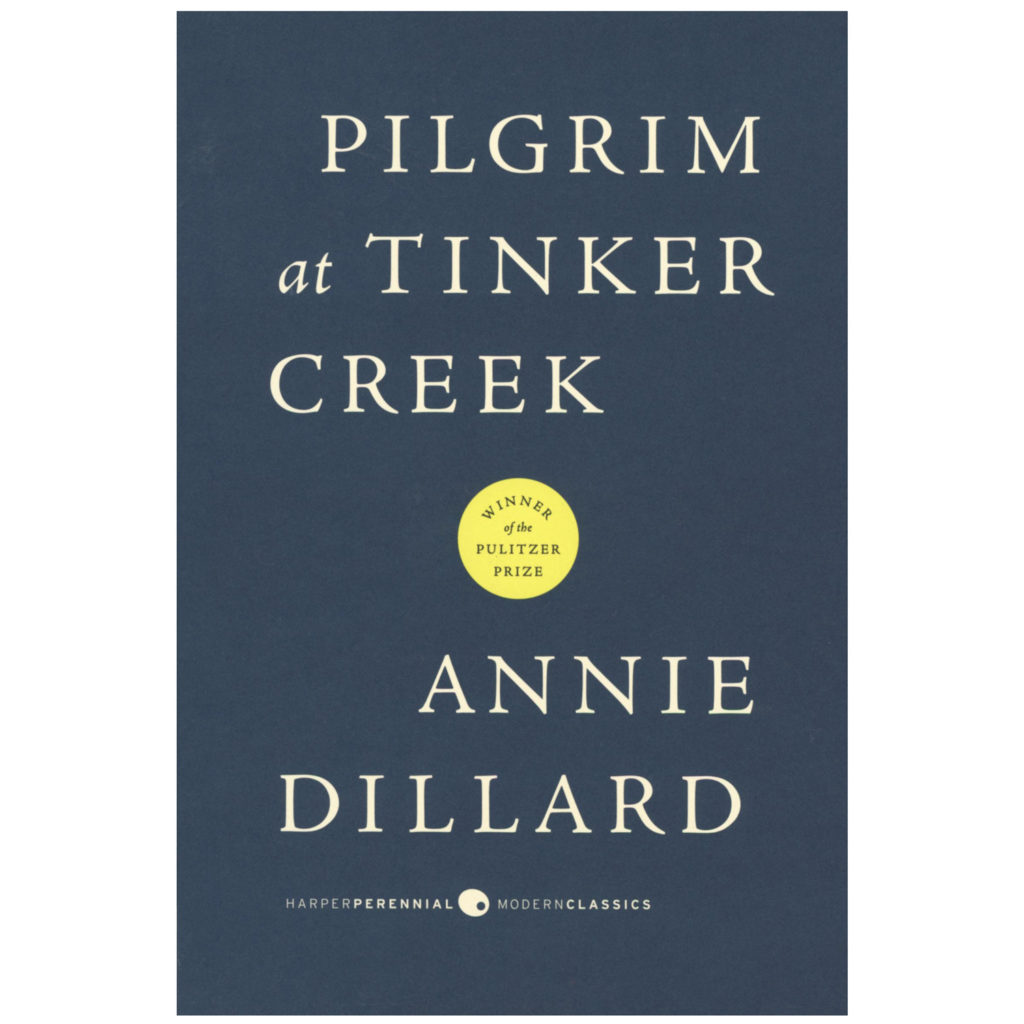 Book: Pilgrim at Tinker Creek
Author: Annie Dillard
Good Reads Rating: 4.11/5
Good Reads Description:
An exhilarating meditation on nature and its seasons—a personal narrative highlighting one year's exploration on foot in the author's own neighborhood in Tinker Creek, Virginia. In the summer, Dillard stalks muskrats in the creek and contemplates wave mechanics; in the fall she watches a monarch butterfly migration and dreams of Arctic caribou. She tries to con a coot; she collects pond water and examines it under a microscope. She unties a snake skin, witnesses a flood, and plays 'King of the Meadow' with a field of grasshoppers.
Quote:
"Today is one of those excellent January partly cloudies in which light chooses an unexpected part of the landscape to trick out in gilt, and then the shadow sweeps it away. You know you're alive. You take huge steps, trying to feel the planet's roundness arc between your feet."
Why you should read it according to a reader:
Settling in with Pilgrim at Tinker Creek is like settling into a favorite chair on your back porch, sipping a delicious glass of wine, and watching with fascination as the golden-winged dragonflies perform an intricate mating ritual. It is spellbinding, and soothing, and fascinating – but one has to want to slow down and pay attention. One needs to mute the TV, turn off the cell, and be willing to breathe in the natural world which is all around us. -Lisa S.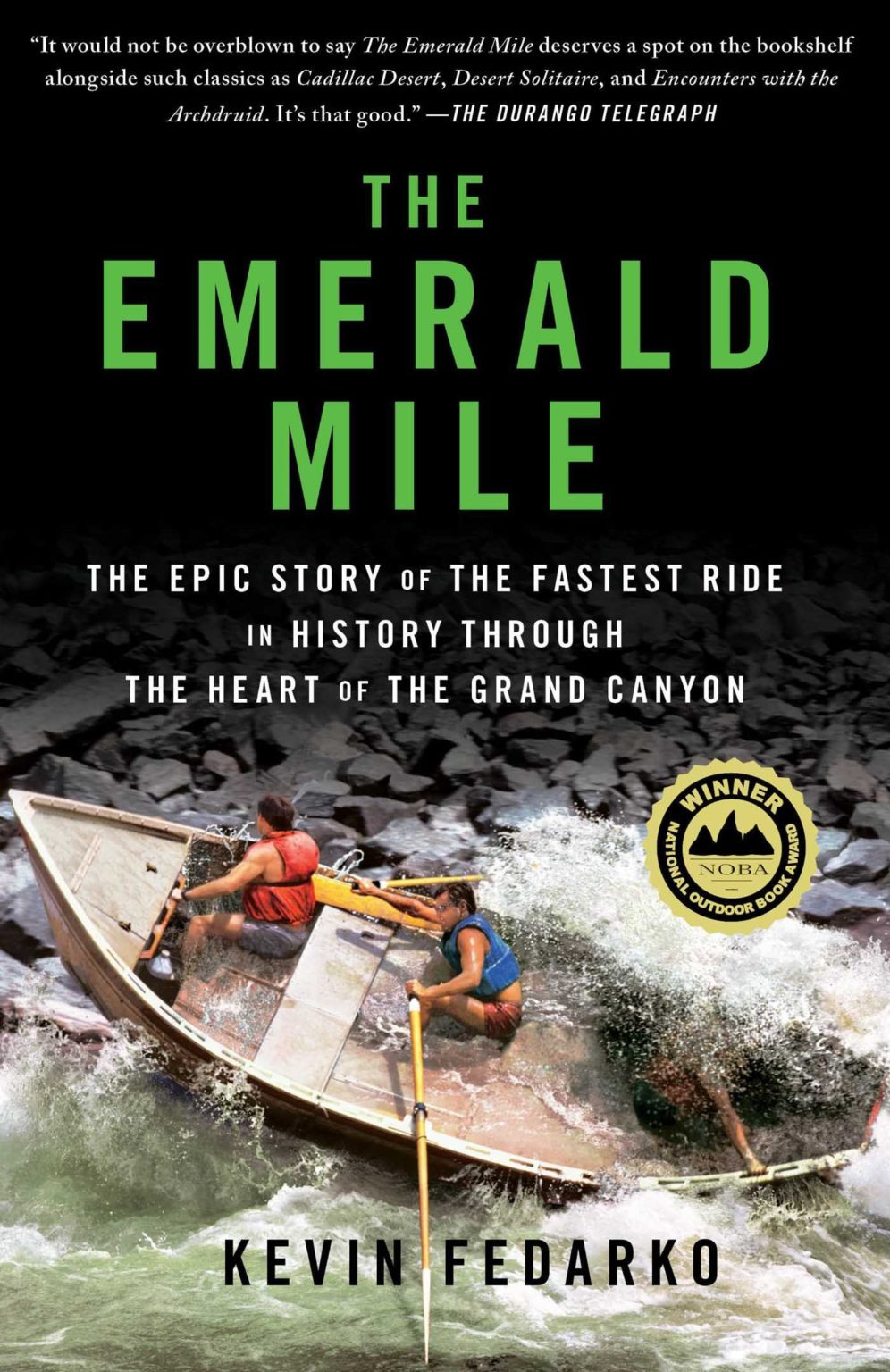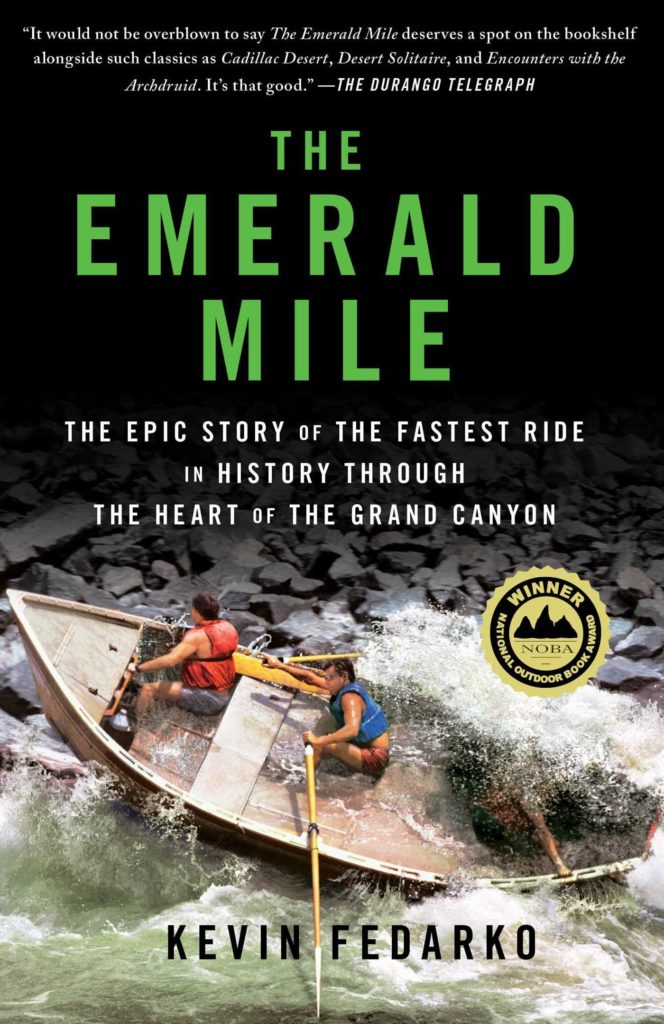 Book: The Emerald Mile: The Epic Story of the Fastest Ride in History Through the Heart of the Grand Canyon
Author: Kevin Fedarko
Good Reads Rating: 4.41/5
Good Reads Description:
In the winter of 1983, the largest El Niño event on record—a chain of "superstorms" that swept in from the Pacific Ocean—battered the entire West. That spring, a massive snowmelt sent runoff racing down the Colorado River toward the Glen Canyon Dam, a 710-foot-high wall of concrete that sat at the head of the most iconic landscape feature in America, the Grand Canyon. As the water clawed toward the parapet of the dam, worried federal officials desperately scrambled to avoid a worst-case scenario: one of the most dramatic dam failures in history.
An insurgent river run under such conditions seemed to border on the suicidal, but Kenton Grua, the captain of that dory, was on an unusual mission: a gesture of defiance unlike anything the river world had ever seen. His aim was to use the flood as a hydraulic slingshot that would hurl him and two companions through 277 miles of some of the most ferocious white water in North America and, if everything went as planned, catapult the Emerald Mile into legend as the fastest boat ever propelled—by oar, by motor, or by the grace of God—through the heart of the Grand Canyon.
Quote:
"If there is a point to being in the canyon, it is not to rush but to linger, suspended in a blue-and-amber haze of in-between-ness, for as long as one possibly can. To float, to drift, savoring the pulse of the river on its odyssey through the canyon, and above all, to postpone the unwelcome and distinctly unpleasant moment when one is forced to reemerge and reenter the world beyond the rim-that is the paramount goal."
Why you should read it according to a reader:
"Brace yourself for a blow by blow thrill ride through one of America's most revered river runs. Fedarko brings the Grand Canyon, its history, culture, and personalities that made up an epic adventure that may never be repeated in a lifetime. Even if you've never experienced white water, you'll enjoy this well crafted work." -Gregory L.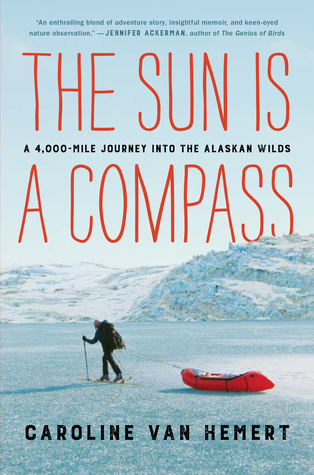 Book: The Sun Is a Compass: A 4,000-Mile Journey into the Alaskan Wilds
Author: Caroline Van Hemert
Good Reads Rating: 4.33/5
Good Reads Description:
During graduate school, as she conducted experiments on the peculiarly misshapen beaks of chickadees, ornithologist Caroline Van Hemert began to feel stifled in the isolated, sterile environment of the lab. Worried that she was losing her passion for the scientific research she once loved, she was compelled to experience wildness again, to be guided by the sounds of birds and to follow the trails of animals.
In March of 2012, she and her husband set off on a 4,000-mile wilderness journey from the Pacific rainforest to the Alaskan Arctic, traveling by rowboat, ski, foot, raft, and canoe. Together, they survived harrowing dangers while also experiencing incredible moments of joy and grace — migrating birds silhouetted against the moon, the steamy breath of caribou, and the bond that comes from sharing such experiences.
A unique blend of science, adventure, and personal narrative, The Sun is a Compass explores the bounds of the physical body and the tenuousness of life in the company of the creatures who make their homes in the wildest places left in North America. Inspiring and beautifully written, this love letter to nature is a lyrical testament to the resilience of the human spirit.
Quote:
"We wanted to experience the landscape as the birds and caribou did: entirely under the power of our own muscles, without using motors, roads or established trails. Our dream was simple, the scale completely outrageous. We would cross 4000 miles of roadless, trailless terrain through a landscape where glaciers are larger than entire countries."
Why you should read it according to a reader:
"Perfect for the outdoor enthusiast, nature lover, birds of fancy admirers. I loved this story from the second I read it and couldn't put it down. The notion that we live in a world that doesn't take the time to 'enjoy the view' is part of this process and we need to truly 'stop and smell the roses' and become one with nature." -Donna H.
Book: Climbing Free: My Life in the Vertical World
Author: Lynn Hill
Good Reads Rating: 4.04/5
Good Reads Description:
From the age of thirteen when she began climbing, it was clear Lynn Hill had an unusual gift. Before long she was arguably the best rock climber in the world, establishing routes so bold and difficult that few others could follow. And in 1994, Lynn succeeded on a climb that no one—man or woman—has been able to repeat: the first "free ascent" of the Nose on Yosemite's El Capitan, which means that she climbed 3,000 feet of vertical granite without using gear to aid her ascent—and all in under twenty-three hours. In Climbing Free Hill describes her famous climb and meditates on how she harnesses the strength and the courage to push herself to such extremes. She tells of her near-fatal 80-foot fall, her youth as a stunt artist for Hollywood, her friendships with climbing's most colorful personalities, and the tragedies and triumphs of her life in the vertical world. More than merely a story of adventure, this book stands out as a genuine, singular account of a life richly and boldly lived.
Quote:
"While resting at the belay, I looked across the valley at the face of Middle Cathedral. On its mottled wall I noticed a play of shadows form the shape of a heart. I have always noticed the symbols around me, and this heart on stone reminded me of the values that have always been most important in my life and in climbing. My own development as a climber has been an extension of the experiences, passion, and vision of others. For me, free climbing the Great Roof was an opportunity to demonstrate the power of having an open mind and spirit. Though I realized that I could easily fall in my exhausted state, I felt a sense of liberation and strength knowing that this was an effort worth trying with all my heart. I had a strong feeling that this ascent was a part of my destiny and that somehow I could tap into that mysterious source of energy to literally rise to the occasion. I said nothing to Simon of my private thoughts, and when I returned to the roof, I realized that this was the moment of truth."
Why you should read it according to a reader:
"It is probably the best rock climbing biography i have read. Most likely it's because she is so honest and true in her descriptions of her life and the millions of decisions that made it. Like any great biography, you feel like you are in the close circle of friends and in the van along for the ride." – Rick
If you'd like to keep reading, here's our guide: Best Ways to Bring the Outdoors Inside, which includes other must-read outdoor books.