Having the right snowboarding gear will make or break your first trip up the mountain. Snowboarding can be both exciting and frustrating at the same time. We've learned that it's best to go into it with a positive attitude and know there will be struggles. And when we fall down, we take in the scenery because we wouldn't see it at home otherwise.
This is not an exhaustive list. Everyone will likely need something a little different but this is a great place to get started.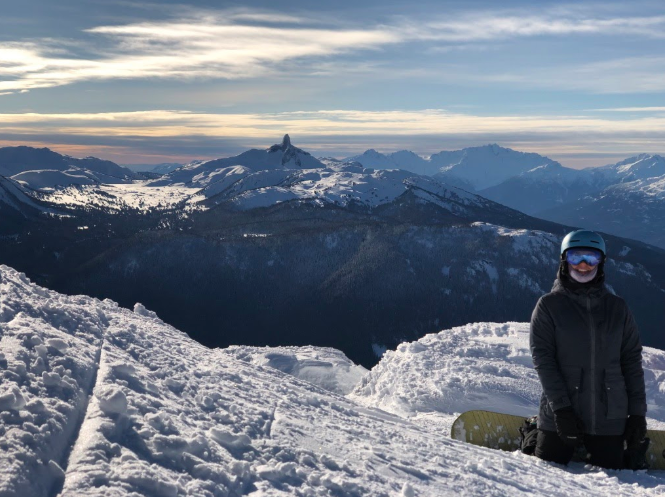 Snowboarding Clothing
We suggest renting and borrowing as much gear as you can before committing to buying it all. You can rent snowboards, bindings, boots, and helmets from ski shops or resorts. Ask friends who are the same size if you can borrow their gear (helmet, goggles, jacket, snowboard pants).
Outerwear
Make sure the snowboarding gear you have on is waterproof, because you'll fall. Often. Sitting in the snow will make for a cold rear end. Protect yourself with the proper pants and jackets.
Oh, and never wear jeans.
Seriously, don't do this. Never in the history of snowboarding have jeans been beneficial. If you touch the snow with your jeans – sitting, falling, kneeling – the water will soak through and they'll stay soaked because they're jeans, not polyester.
Get snowboard-specific gloves, not mittens. Buy gloves with an outer shell of nylon, leather, Kevlar, or something similarly flexible and hard-wearing. Your hands will touch the ground as often as your butt.
Mid-layer
For the extra cold days, wear mid-layers (fleece, sweatshirts, sweatpants, etc.). Mid-layers keep in the warmth. When you're sitting on the ski lift and the breeze is whipping back and forth, you'll want them.
For some who run cold, add an insulated jacket between the base layers and outerwear. This is good for frigid days or if you're not acclimated to the environment.
Base Layer
Base layers keep you dry –– but don't wear cotton. Otherwise, all the body heat and sweat will linger on your skin and we all know what it feels like to be wet and cold.
Find base layers made of merino wool as they wick away sweat and retain your body heat. If you need help layering, check out Smartwool's recommendation. Get something that's tight-fitting without a hood so it doesn't bunch up in the back.
Socks
Keep your feet warm with wool socks too. Your feel will sweat from the heat of your boots and you want a sock that'll wick away moisture. The last thing you want are numb toes because you wore the wrong kind of socks. You also want to make sure the socks come up to almost the knees. That way, you prevent the snowboard boot edges from rubbing against your legs.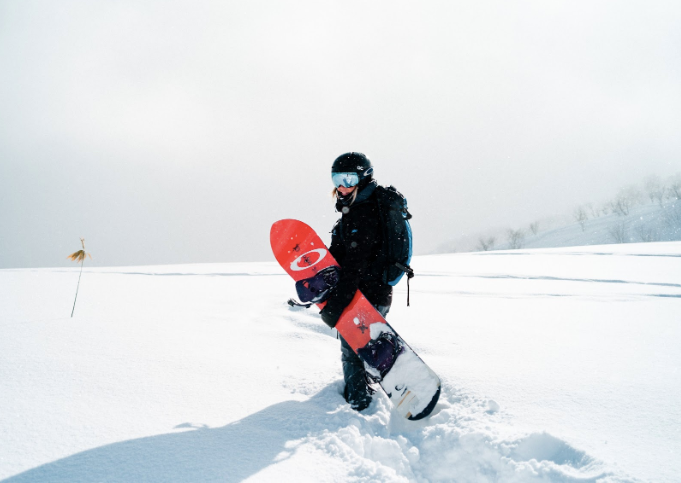 Snowboarding Gear
Boards
It's obvious but you need a snowboard, bindings, and boots. Otherwise, you won't be snowboarding. There are different kinds of boards: freestyle (best for beginners), freeride ("All Mountain"), and alpine ("Carving") boards.
Freestyle all-mountain boards are the most popular since alpine boards are meant to carve and race and are better reserved for a more advanced rider. If you're renting a board, rent from a local snowboard shop instead of a ski resort as they're typically higher priced at the resorts.
Boots
Renting boots from a shop won't be as comfortable as ones you'd buy, but it'll save you hundreds of dollars. When you rent boots, try them on in the shop first and walk around in them. See how they feel before you leave and make sure they're comfortable.
Helmet
Safety is cool. Rent a helmet. As a beginner, you're going to fall. The last thing you want is to slam your head against the hard-packed snow. Most shops rent helmets as well. You can also ask friends if they have a helmet you can borrow.
Snowboard Goggles
Goggles are a must for snowboarding. Snow will be flying, the sun will reflect off of the snow, and there will be plenty of wind. Protect your eyes and your vision with a pair of goggles. Before heading up to the ski resort, check the forecast. There are a variety of goggle lenses you can use.
Yellow, gold, amber, green, or rose-colored lenses are good for cloudy days.
Brown, gray and copper-colored lenses are great for days full of sunshine.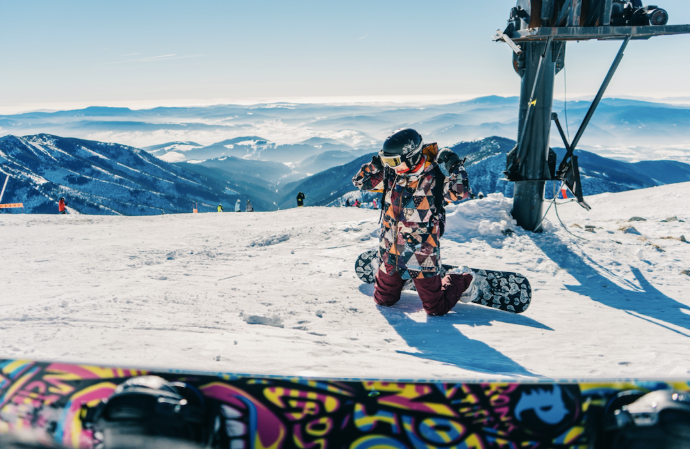 Extras to carry in your pockets
Depending on how long you plan to be on the mountain, preparation is key. What you carry in your pockets will depend on the ski conditions so check them out before heading up for the day.
Face mask
If it's going to be cold, windy, and wet, make sure to bring something to cover your face like a balaclava or mask. Tissues are handy as well if your nose is running. If you own (definitely own) gloves with a nose wipe, you won't need tissues but if those gloves aren't yours, keep your germs to yourself and pull out a tissue.
Goggle cloths
Other key items are goggle covers and cleaning cloths. If you take a face plant in the snow, a cloth is better than your polyester jacket that just spreads around the water.
Lip balm and sunscreen
Lip balm and sunscreen are often overlooked but just as important. Chapped lips and sunburned cheeks don't feel fun after a day on the slopes. Bring them with you and tuck them away in your pocket.
Snacks
Bring snacks! Food like peanut butter sandwiches or protein bars will go a long way. You wouldn't think it'd be such a workout falling and getting back up but you'll be begging for something to munch on after a few hours of (essentially) isometric squats and push-ups.
Tools
Bring a fold-up multitool in case your bindings become a little loose. It'd be unfortunate if one of the screws in your bindings loosened up and you had to walk the rest of the way down.
When you have everything purchased, rented, or borrowed, it's time to ride. The one thing that can't be borrowed, rented, or purchased is confidence, and that's about 95% of it. Go into it with a great attitude and you'll come out of it with a new skill and awesome experience.
Read our interview with Jake Gaventa, AMGA-certified Ski Guide, about what it's like becoming a ski guide leading skiers in the backcountry.