Guiding isn't just a free day to get paid to do what you love. It is that, but it's more about putting the client's needs first. It's making sure they're happy. It's giving them the best line in the backcountry, not taking it for yourself.
A lot of people who want to become an outdoor tour guide think starting a tour guiding business is getting paid to go on sweet adventures every day. You dream about waking up in the morning, driving to the trailhead, hiking the backcountry with a few people who are paying you the big bucks to be led to champagne powder, and you get to enjoy it as if you were with a group of friends.
In an interview with Jake Gaventa, he spelled out what you can expect as a guide:
I see a lot of young folks attracted to the industry because they're strong climbers and skiers. And they think, "Okay, I get to do the stuff that I love every single day." I don't see those folks lasting as long in the industry. Because oftentimes, you are not at your physical ability. You are maybe on the same routes in the same terrain, oftentimes doing the same thing over and over and over. 


So the folks that I see that think, "This is about me." They tend to not last very long. Whereas the folks who are more interested in connecting with people, and facilitating this really awesome, positive experience, will last. You have to remember that it's maybe someone's best day of their life, or it's the best day of their year. It's a big day for them. For you, it's just the average day, right? But for them, it's a big day and it's all about them. It's about your clients and not about you. You have to check yourself around that.
Knowing that being an outdoor guide means connecting with people and facilitating once-in-a-lifetime experiences, let's dive into what's a niche, why it's important to have one, how to choose it, and some ideas.
What Is A Niche?
A niche market is a more narrow or focused area of a broader market that your guiding business will serve. Having a niche helps businesses like yours gain competitive advantages. By niching down, you can serve a specific population that mainstream outdoor guiding businesses aren't helping or overlooking. 
Serving a focused group means you'll build loyalty and revenue because you're personally addressing their problems.
For example, a Colorado outdoor guiding business can offer several generic hikes along the front range. Rather than staying broad, a tour operator can offer mountaineering trips up Pikes Peak. Another operator can offer snowshoeing up Mt. Bierstadt.
By narrowing down your focus, you'll show your uniqueness and you'll differentiate yourself from competitors.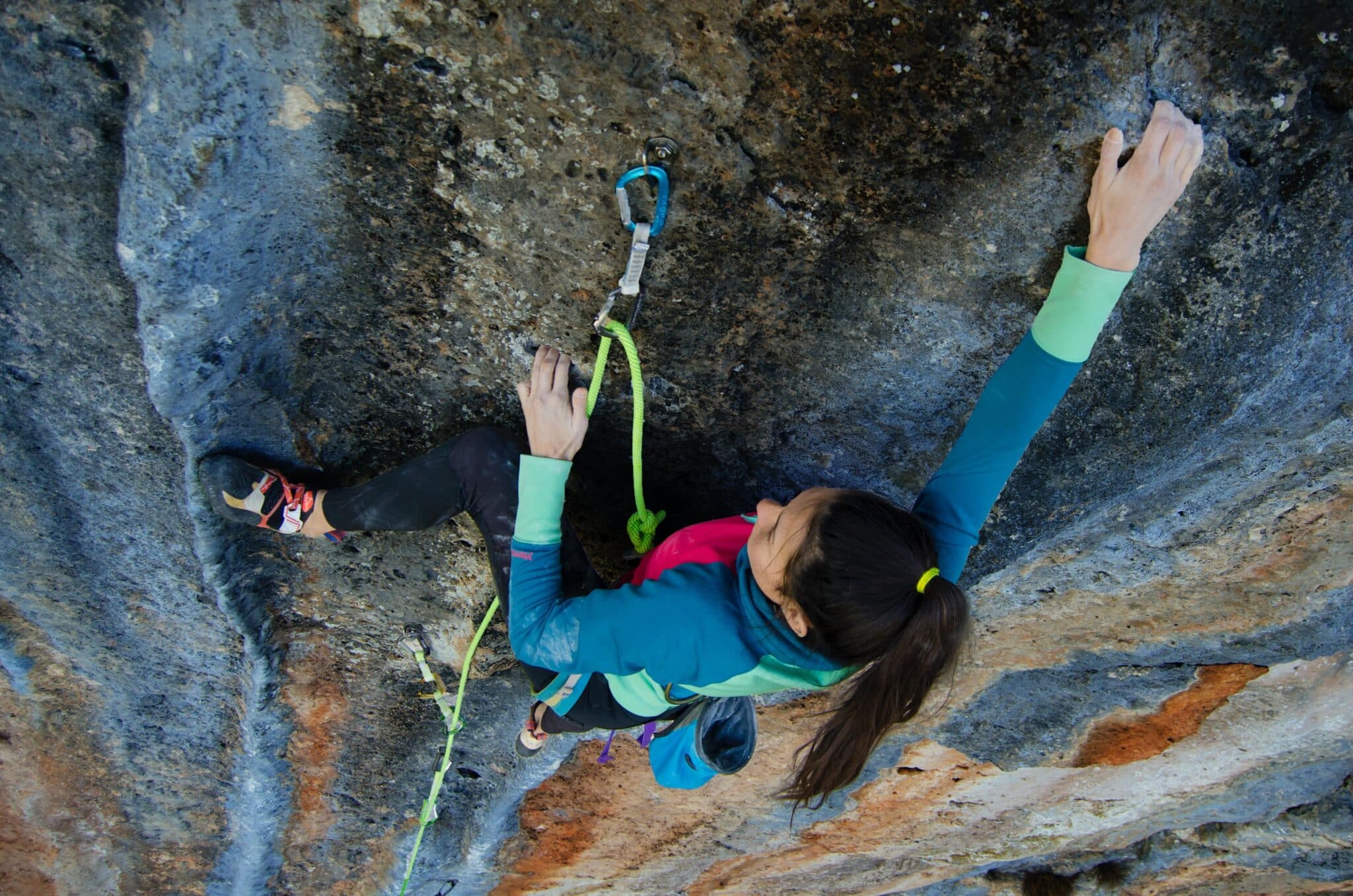 Finding An Outdoor Guiding Niche Business Idea
Coming up with an outdoor guiding business idea niche doesn't have to be hard. It's really just assessing your interests and skills, what people are looking for, and how you can get them to pay you. Let's see how you can do it in three steps:
How To Choose A Niche In 3 Steps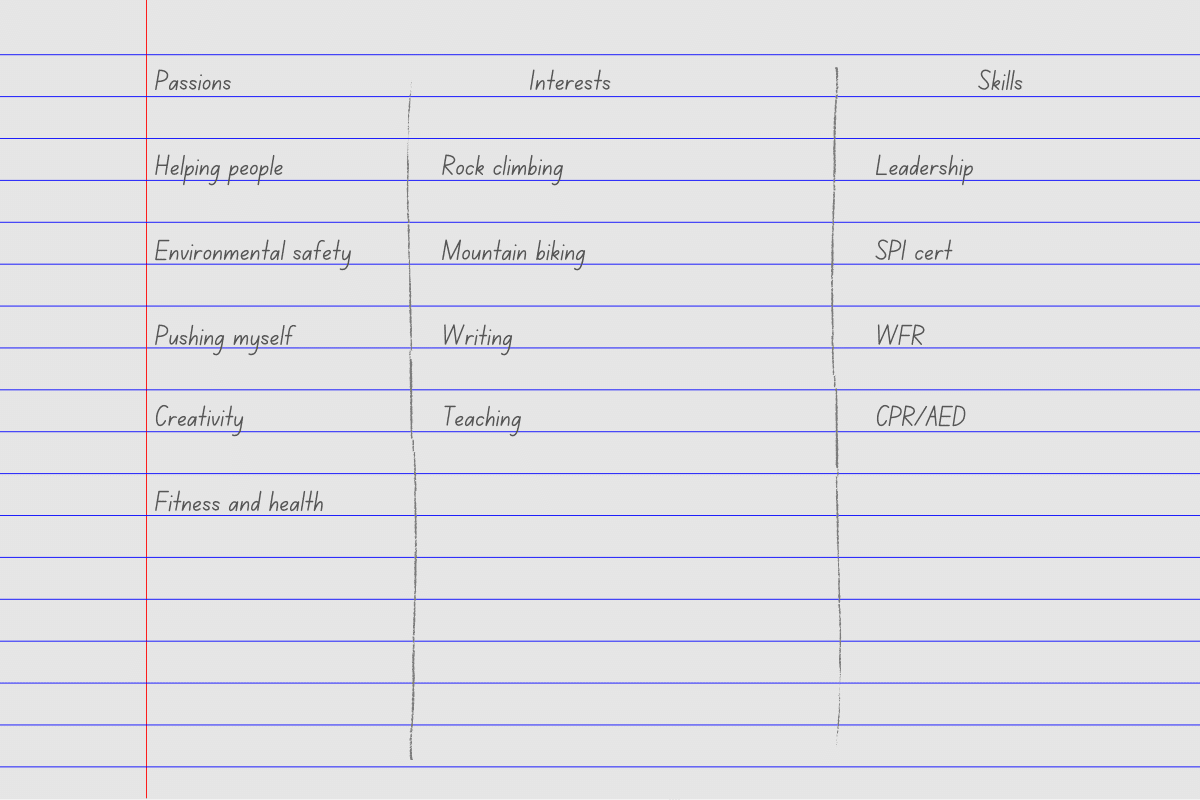 Step 1: List all your passions, interests, and skills 
When you're listing your passions, interests, and skills, make three columns on a piece of paper then write the numbers one through 10 down the sheet. Try to fill it out entirely and when you're done, you'll have 30 things.
Your Certs
To help you get started, think of the certifications you already have. In our article, "5 Beginner Tips To Become An Outdoor Adventure Guide," we suggest obtaining at least some (if not, all) of these certifications: First Aid/CPR/AED Certification, The Wilderness First Responder (WFR) Certification, Wilderness First Aid (WFA) Certification, And Swift Water Rescue Training.
If you have any of these certifications, it'll help you substantially in not only finding out what kind of niche guiding business you want to start, but you'll have a head start on being a legitimate outfitter.
For Fun
Another aspect to generate ideas is thinking about what you like to do for fun. You may be a certified whitewater rafting instructor, but you've lost interest lately. Or, during breaks, you found yourself climbing mountains instead.
For Clients
Finally, ask yourself, "What would you like to do knowing the client comes first?" You may LOVE backcountry skiing, but are you willing to let your client get the best line—even helping them find the best line? If that makes you uneasy, you either need to look past the "it's all about me," or find another outdoor niche to guide.
Step 2: What are your ideal client's goals?
When you're choosing a niche, think about the people you'll serve. Who are they? What do they like to do? If you keep it broad, your ideal clients want to go on a once-in-a-lifetime adventure. They want to push themselves. They want to be outside, in nature, and walk the path less traveled, if we're going to quote Robert Frost. 
Think of their motivation
Now think about what would motivate your ideal clients to book a tour with you. Put yourself in their Keens (okay, their shoes). You want to go on an outdoor adventure and you search for the multi-day backpacking trip you've always wanted to go on. Browsing different outdoor tour companies, you finally find the perfect one. Why did they stand out to you?
That's the same reason your ideal clients will pick you. 
What can you do that they can't do on their own?
Niching down for your outdoor guiding business means thinking of what people will pay you to help them accomplish. You also have to consider what you can lead. You may love rock climbing and want to take people to your local crag, but if you've never actually guided rock climbers and you don't have a certification, then that's unrealistic right now.
Alternatively, if you have your Single-Pitch Instructor certification from the AMGA and you love climbing, well, you probably already know what you can do that your clients can't.
How can you provide them with an experience of a lifetime?
Finally, think about how you can give your clients one helluva adventure. It's not just about taking them to the crag. You're not just telling them to do A, B, and C. It's guiding and teaching your clients to become a better version of themselves. You're showing them what's possible. It's changing their lives in as little or as big of a way as possible. 
If you're a people person or an extrovert, this will be perfect for you. Guiding is all about community. If you don't like people or you prefer to climb alone, this may not be the business you want to start.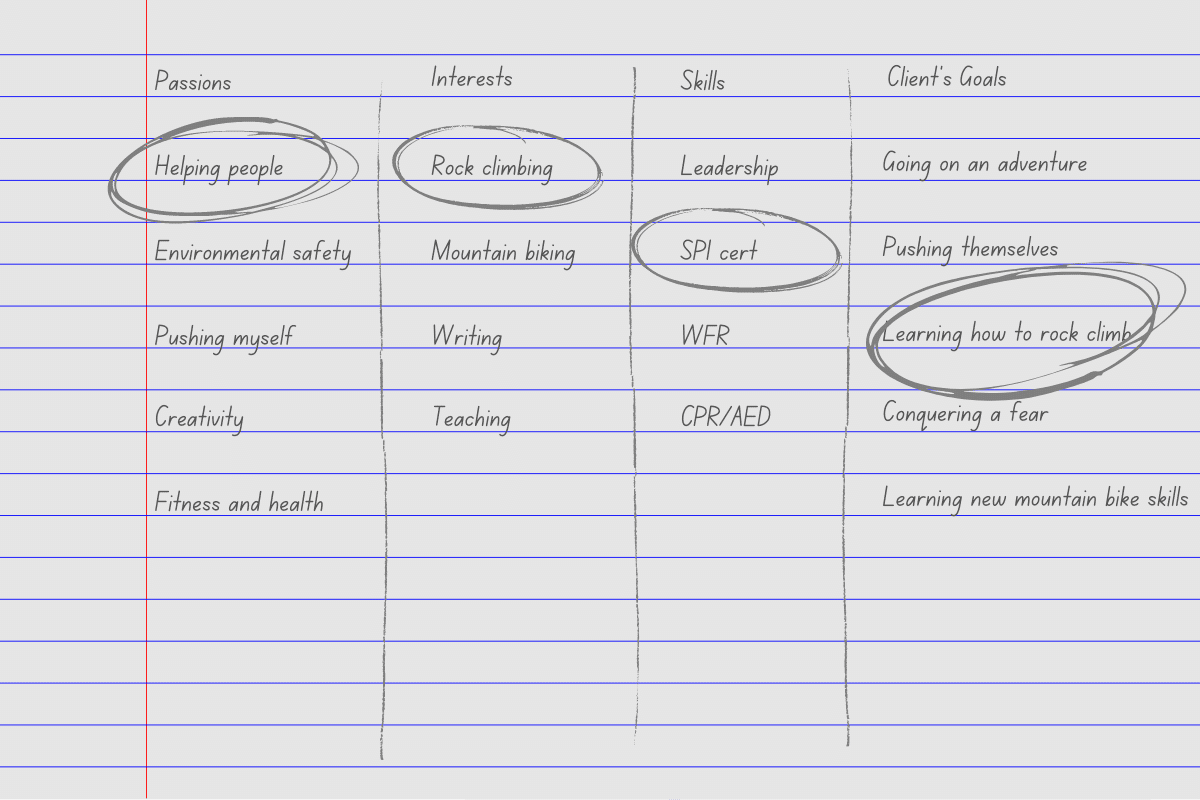 Step 3: Where do your passions/skills overlap with what clients are looking for?
Look at your lists
The last step is looking at where your passions and skills overlap with what clients will pay you for. When looking at your passions, skills, and interests, are there any that someone would pay you to teach them? 
Referring back to the SPI Certification, if you have this, someone will pay you for your knowledge. And if you've been a guide at a company, you also have experience, which sets you up perfectly to start your own niche outdoor guiding business.
Make sure your guiding business is profitable
Okay, so you have the SPI Certification, you love working with people, and you have previous experience guiding—now what?
You need to make sure your niche business idea is profitable.
Start researching. See who else is offering what you plan to offer. If too many businesses are offering the same thing, it's a saturated market and you'll have a harder time growing your business. It won't be impossible, but it'll be much more challenging than if you were to offer something more unique.
Places to check:
Google Trends—Shows search trends on Google (Is your niche growing? That's a good sign).
Travel + Leisure—See what's trending in travel.
McKinsey & Company—They publish a lot of reports. Here's on US Summer Travel 2022 to give you an idea.
Facebook Ads—We know, Facebook, grumble. But you can build out an audience (without starting an ad campaign. This will show you how many people could be potentially interested in what you ‌offer.
If your tour guide business is unique with very few, if any, competitors, see how many people are searching for what you're offering. If there aren't many people searching for it, you may struggle to get enough clients.
The ideal is few competitors, high search volume. The more specific your adventure guiding business, the fewer competitors you'll have. And if people are searching for it—enough to make a profit—then you've found your business niche idea.
Even if there are several competitors, you can differentiate yourself through your values, what's offered on trips, where you take your clients, the price, and the quality of your guided trips.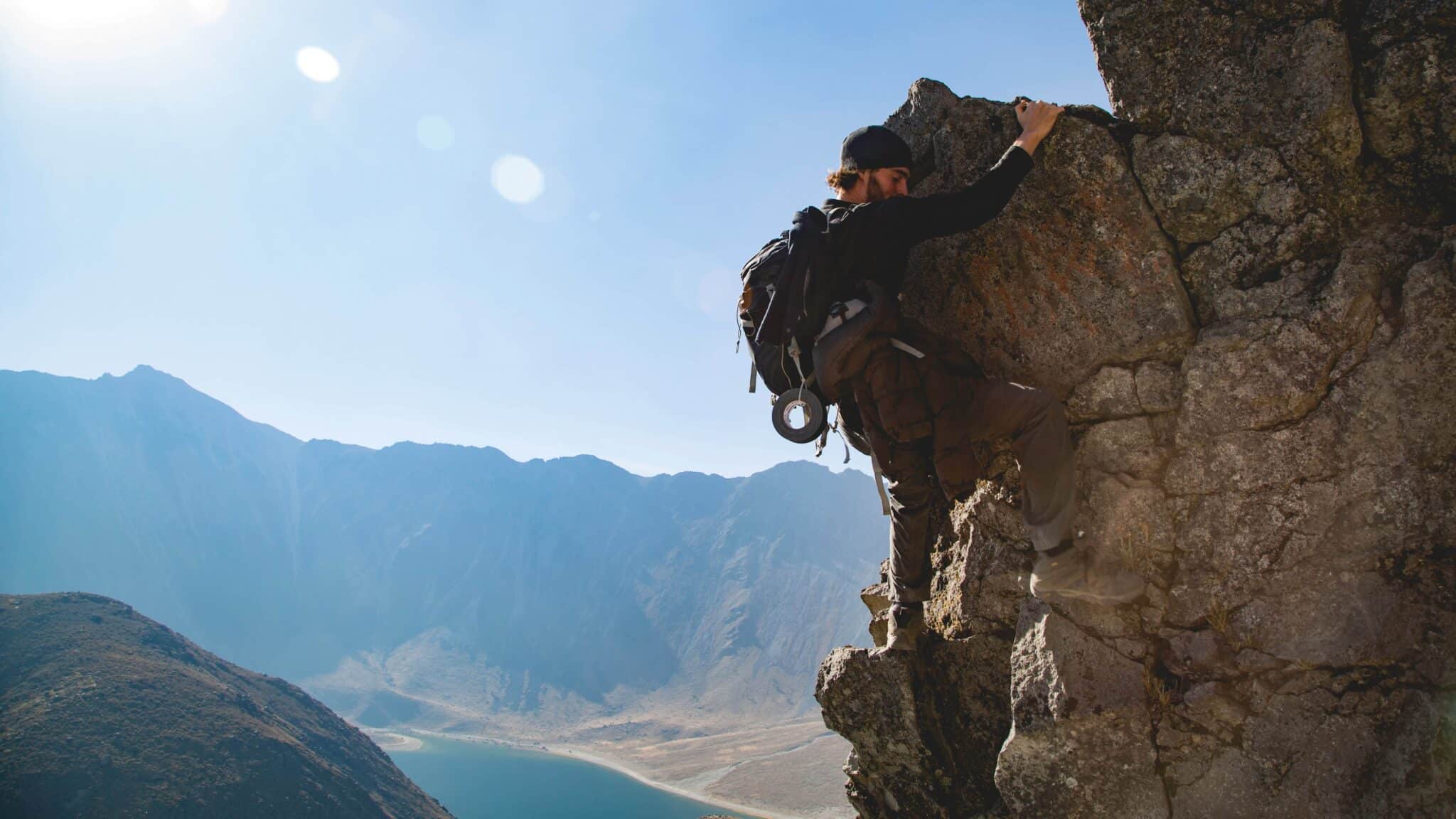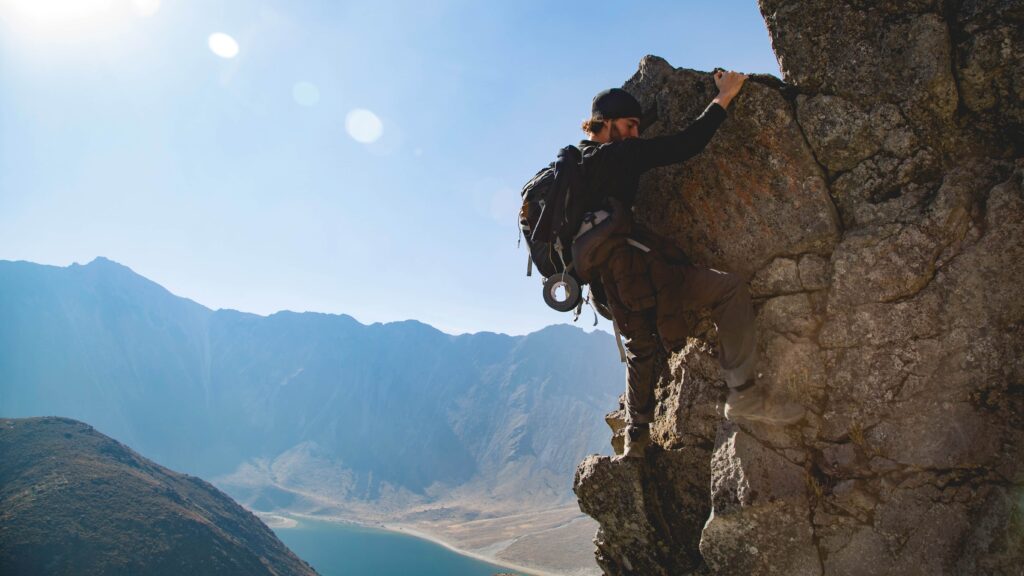 Different Niche Ideas
Here's a short list of outdoor guiding businesses to help with brainstorming, if you haven't figured out your niche by now. Choosing your niche should be fun and exciting and it starts here!
Ski Expedition 
Winter Hiking
Wild Swimming
Forest Therapy
Mountain Biking
Multi-Day Bike Tour
Outdoor Cooking
Rowing Tour
Fishing Trips
Ice Fishing
Ancient Wine Terraces
Rock Climbing
Whitewater Rafting
Sailing
Canyoneering
Rappelling
Mountain Hiking
Coasteering
Kayaking
Snowshoeing
Backpacking
Bikepacking
Scuba Diving
TL;DR
To choose a guiding business niche, follow these three steps:
1. List all your passions, interests, and skills (try to list 10 of each). What certifications do you already have? What do you like to do for fun? What would you like to do knowing the client comes first?
2. What is your ideal client dealing with? What are their problems? What would motivate them to book a tour with you? What can you do that they can't? How can you provide them with an experience of a lifetime?
3. Where do those two overlap and what people will pay you for? Make sure it's profitable. Who else is offering what you want to offer? How many people are searching for what you're offering?
Need a free fillable PDF to help you choose your niche? Download our free worksheet to jumpstart your business idea!