Switching from Rezdy to Origin
| | | |
| --- | --- | --- |
| | | |
| General Admission Tickets | | |
| Individual Guide Schedules | | |
| | | |
| | | |
| Custom Trip Booking Pages | | |
| | | |
| | | |
Interested in a personalized guided tour of the Origin platform?
Schedule an intro call with our team.
What has Basecamp Ouray learned about their solution so far?
Interested In Moving To Origin?
Schedule a call with our team today and start using a scheduling and booking platform built for your business.
Combine multiple platforms into one online booking and scheduling system
The adventure guides at Basecamp Ouray are no strangers to wearing multiple hats, but when it came to having to use multiple systems to manage adventure trips, staffing, guide assignments, and waivers, the Basecamp team was stretched too thin.
They were searching for reservation and scheduling software that could consolidate the three separate platforms they used.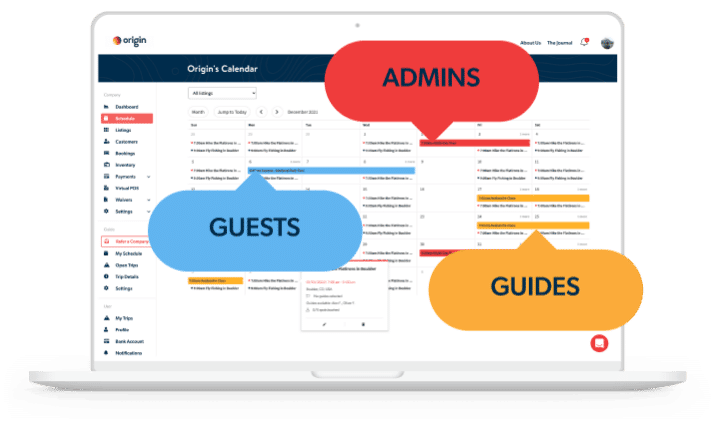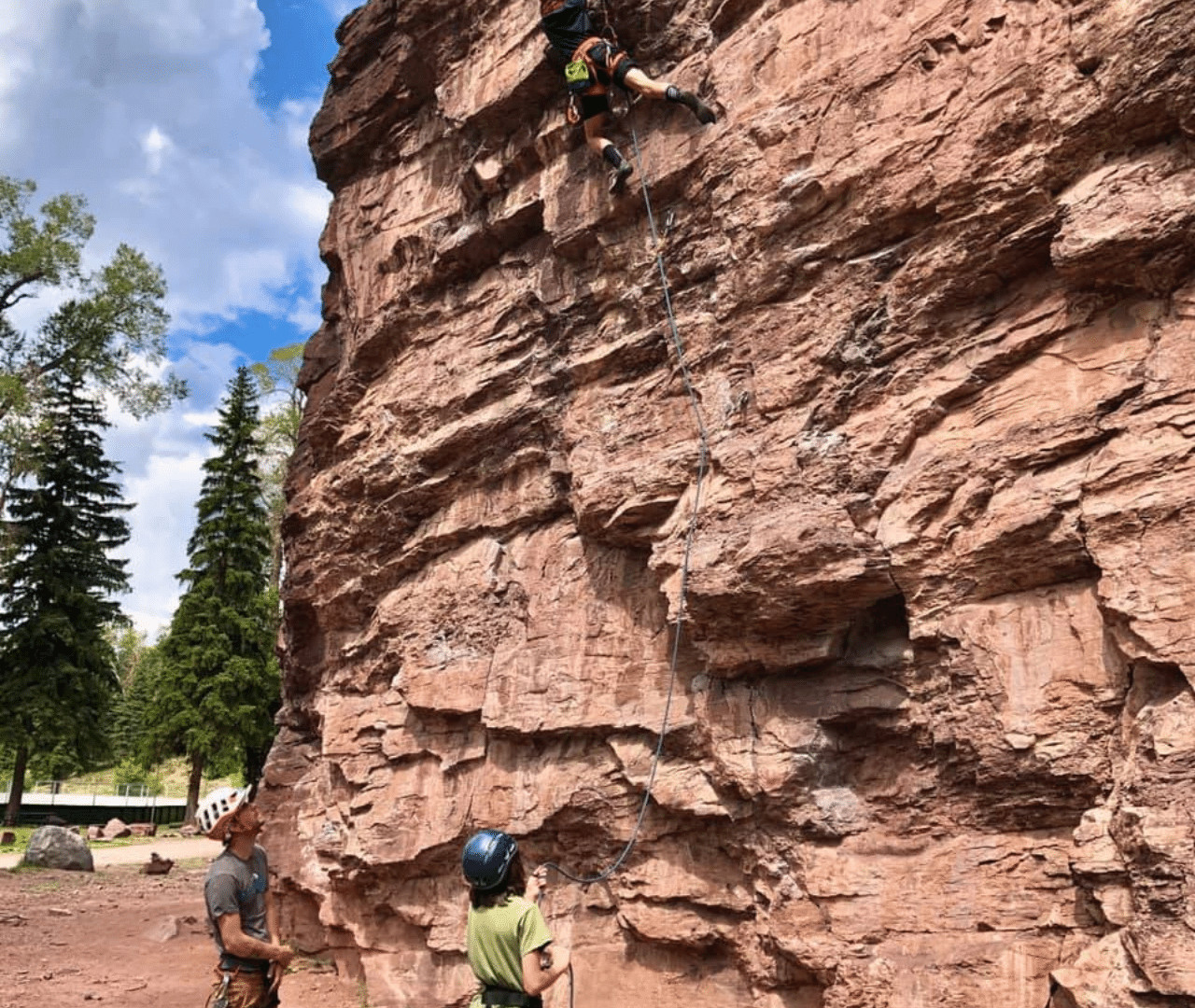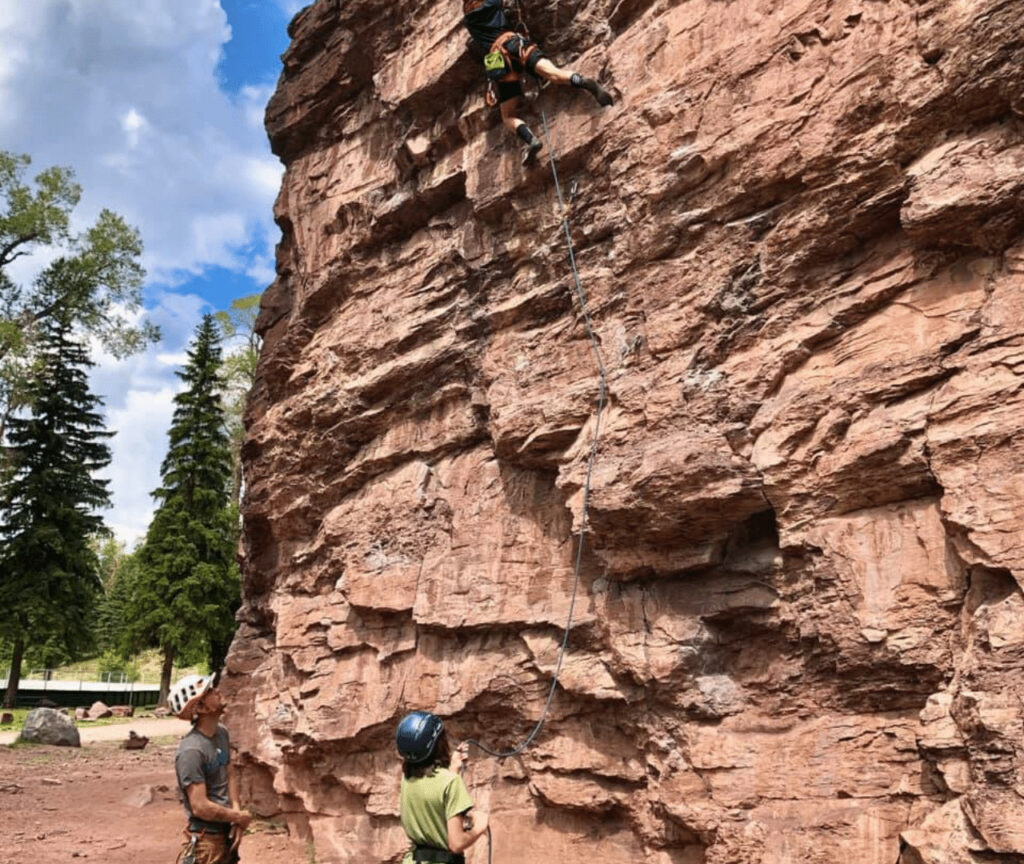 Running an adventure guiding business with limited hours
Basecamp Ouray not only needed a system that booked trips and integrated with email marketing platforms, but online booking software that made scheduling and assigning guides easier. The team needed something efficient and they wanted their free time back. They had spent too much time trying to figure out an antiquated system that wasn't solving their problems.

A user friendly platform that saves clicks and time 
Since leveraging Origin's all-inclusive online booking and scheduling software, the team at Basecamp Ouray are saving at least 20 minutes per client and have consolidated all of their platforms to one. They don't have to worry about hiring a designated office manager to answer phones, respond to emails, book reservations, or track down available guides.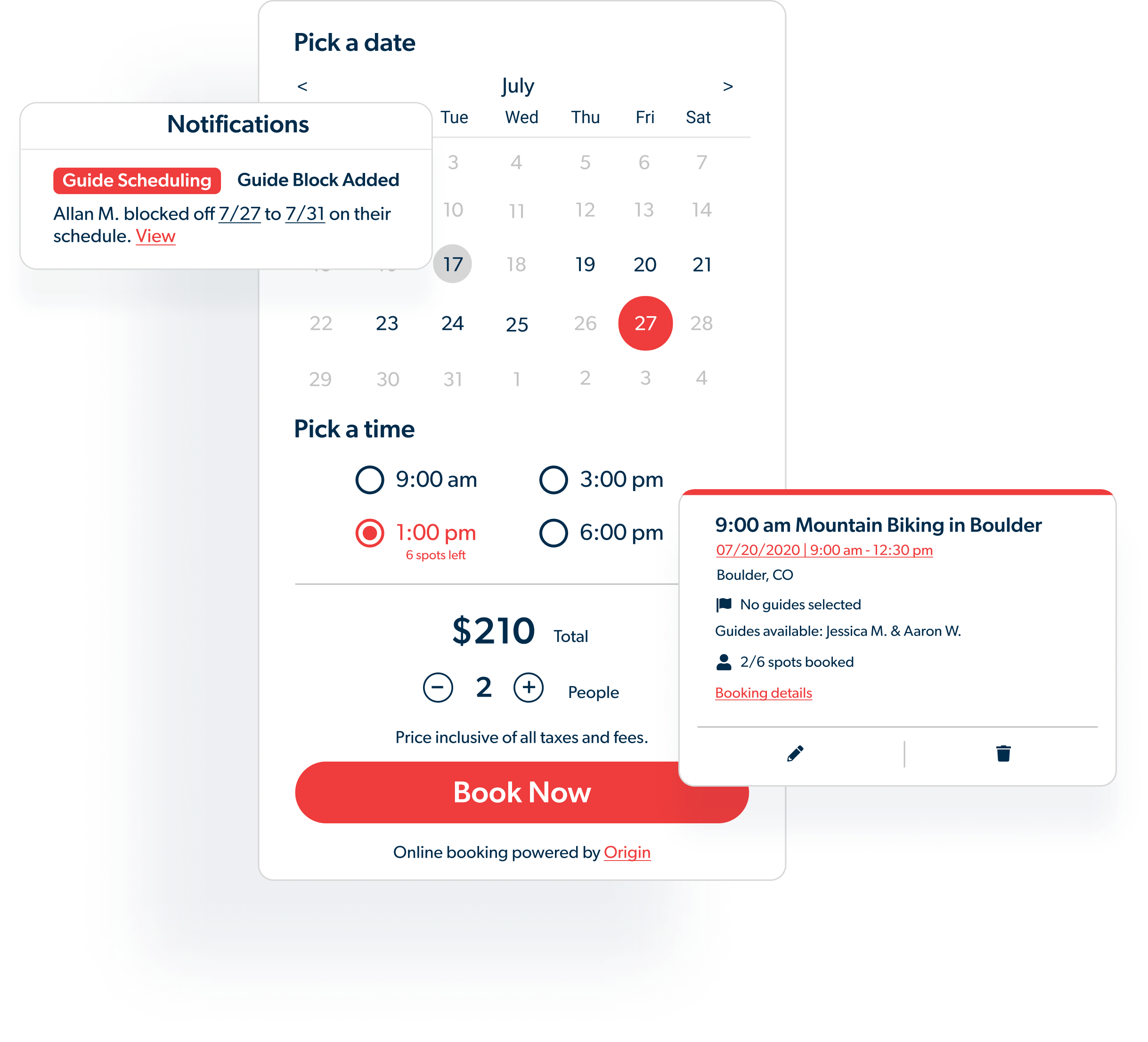 What were your thoughts about switching to Origin from Rezdy with regards to price?
There were three major things we considered before switching from Rezdy to Origin.
How much time do we already spend running the business and could Origin get some of that time back? Having a system that does things automatically, and is easy for me to use and causes me less headaches, I will obviously pay more for something that accomplishes those things. Forget reducing my cost. This is less of a headache, right?
Second, how much money will we save during our "dead season"? With Rezdy's monthly subscription, we paid when we weren't making money.
Finally, both of us are small companies and we knew Origin would work alongside us. We think as Origin grows, it'll just continue to get better.
Why would you recommend Origin to someone who might be on the fence?
I would tell them to see how much it costs compared to other platforms. Then do some rough estimates of how much money you're going to save through efficiency, automation, and less headaches. And decide if Origin is worth it for you to get time back and make things easier.
I would have paid double or triple for Rezdy if it wasn't such a pain to use. Half of our clients say they went with us instead of another company solely because of our website. That, to me, is worth the premium pricing.
And so far, has it delivered on your expectations?
So far, 100%. The Origin Team has been super helpful and is also willing to listen to feedback and adapt the system a little bit. So that makes it a no-brainer. Origin works like an app. Apps are meant to be more efficient and take a few clicks to navigate. Run those quick numbers. It's not hard. It took me 15 minutes, and I realized I wanted to use Origin.
About Basecamp Ouray: Whether it's your first time in the gym, booking a guided adventure, or you're advanced and looking to expand your sport, you have a place at Basecamp Ouray. As Ouray's premier guiding service and climbing gym, they offer Via Ferrata, Rock, and Ice Climbing guided trips for all abilities. They also have 3 indoor climbing walls complete with fitness and yoga.
Location: Ouray, Colorado
What they guide: Rock Climbing, Via Ferrata, and Ice Climbing
Website: https://basecampouray.com

Sign up and get started on Origin today. Start using a scheduling and booking platform built for your business.