Across the United States, LGBTQ people are finding others to connect with outside. Now, more than ever, people want to get outdoors and they want to feel safe while exploring. These outdoor organizations are doing both while creating an inclusive environment for LGBTQ people.
The Venture Out Project
The Venture Out Project (TVOP) was founded by Perry Cohen after realizing his lifelong dream of combining social justice, his love for the outdoors, and his own trans and queer identity.
Their programs include everything from backpacking, hiking, biking, and canoeing for youths and adults. They also have queer climbing nights where the group visits climbing gyms together. The great thing about TVOP is that it's more about creating community than PR'ing climbs and hikes.
This LGBTQ outdoor organization's goal is to bring the queer and trans community together to experience the beauty of nature. Their backpacking and wilderness trips are led by and are for queer people.
Wild Diversity
Mercy M'fon Shammah founded Wild Diversity because she wanted to support "a robust community of POC (People of Color) & Queer outdoorists and be an architect of much-needed change for diversity in the outdoor industry."
Through their outdoor adventures, day and weekend trips, and workshops, their goal is to build a community and create a sense of belonging for BIPOC & LGBTQ+ communities. Not only do they offer several ways for BIPOC & LGBTQ+ communities to come together, but they are equipping the next generation of explorers by creating equitable access to outdoor adventures and education.
At the same time, Wild Diversity is working to decolonize outdoor spaces by offering diverse leadership development training and hosting the Resilience Outdoor Conference.
Queer Nature
Beyond simply recreating in nature, Queer Nature teaches ecological awareness and place-based skills in order to "build inter-species alliances and an enduring sense of belonging."
Founder, Pinar, realized that LGBTQ2+ people have had to cross several barriers to learn survival skills in the outdoors like bushcraft, tactical skills, and (ethical) hunting. The practice of ecology, giving back and respecting the Earth as well as the relationship with the ancestors and "living First Nations people of the land we are occupying," drives Pinar's programs at Queer Nature.
By learning necessary outdoor survival skills, we not only become more tactically-aware in the outdoors but translate these skills in a human aspect as well. As Queer Nature puts it, "Queer people often have diverse and varied experiences of survivor-hood, and it is powerful to have that reflected back by the natural world. There are many mysterious and beautiful ways in which nature reflects queerness."
Diversify Outdoors
While not an organization per se, Diversity Outdoors is a coalition of social media influencers who promote diversity, equity, and inclusion in the outdoors. Their influencers range from bloggers, athletes, activists, and entrepreneurs who all have the goal of promoting people of color, LGBTQIA, and other diverse identities that have been historically underrepresented in the outdoor space.
Diversify Outdoors is a coalition to connect these influencers through social media who are paving the way to make the outdoors more diverse, equal, and inclusive. In July 2018, they developed a grassroots initiative, led by Teresa Baker and Chris Perkins, called the Outdoor CEO Diversity Pledge.
You can join their movement through their hashtag #DiversifyOutdoors that has been used over 33,000 times on Instagram.
OUT There Adventures
Through three programs, Yosemite Backpacking to San Francisco Urban Service for LGBTQ+ Young Adults, Oregon Rafting & Service for LGBTQ+ Young Adults, and The LGBTQ Inclusion Crew, OUT There Adventures "fostering positive identity development, individual empowerment and improved quality of life for queer young people."
Elyse Rylander founded OUT There Adventures because she saw the lack of LGBTQ youth outdoor programming. She started her plan (in a Microsoft Word document) back as an undergrad at the University of Wisconsin, donating her eggs and working part-time jobs to sustain the organization and idea.
OUT There Adventures believe that every youth deserves the change to explore their identity in a positive environment, to be part of a community, and that nature can transform lives.
OutVentures
Founded by Ed Ferguson in 1994 by the desire to explore his own 'backyard,' OutVentures is run by volunteers to "promote a positive attitude, exemplary values, service, health, and social equality through outdoor recreation" for the GLBT community.
Their mission is to bring the GLBT community together in a safe and inclusive environment so they can all experience the outdoors together. They offer educational classes and events with the goal of creating an environment that encourages sharing knowledge and experience about outdoor recreation activities.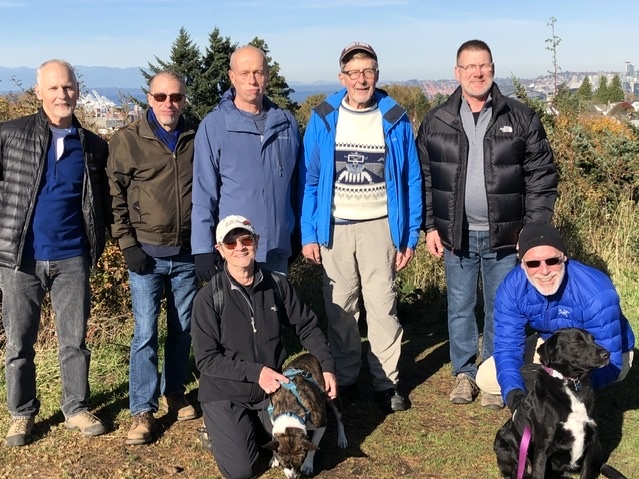 Want to find an LGTBQ outdoor organizations and groups and near you? Hannah Malvin, who founded Pride Outside 2016 and leads The Wilderness Society's partnership initiatives, enlisted a mapping team to build an interactive map of around 46 outdoor groups across the US.
The goal of the map is to connect and provide resources for outdoor enthusiasts in the LGTBQ community. As we celebrate Pride month, consider how you can help support these outdoor organizations who are diligently working to create an inclusive outdoor community.
Like what you're reading? Sign up for our newsletter and receive product updates, blog posts, and more:
[hubspot type=form portal=20710242 id=18ac1a5f-a560-4d2e-a134-9654342f7b61]