Your fall adventure bucket list might be a little dry right now. If that's the case, here are five ideas to take your fall up a level.
1. The Adventure-Run
Do you like trail running and want to explore new terrain while challenging yourself? Many consider the mountain or adventure-run the backcountry version of trail running. The speed allows you to cover more ground, turning backpacking routes into doable day adventures. A guide can help you move efficiently through dynamic, complex—sometimes steep and technical—mountain terrain.
A guide might offer tips on uphill pacing, downhill footwork, nutrition, recovery and reading weather. Whether looking to run and speed hike a peak, traverse a ridge or link multiple mountain passes, the adventure run has solidified its place on the fall bucket list.
2. Lift Accessed Mountain Biking
When the snow melts, many ski areas transform into world-class mountain bike trails and parks. Load your bike on a chairlift, ascend to a scenic summit without breaking a sweat, and drop into a variety of purpose-built trails for all levels of riders.
Even beginner mountain bikers should try lift accessed riding. Machine built trails are often smoother, wider and less intimidating than many cross-country trails. While some trails include jumps and other features, most offer alternative routes around obstacles—no air needed. Skills parks within the bike park help all levels of riders progress and transfer those skills to the trails.
Beyond improving your downhill skills, a guide can smartly link together bike park trails and nearby cross-country trails for an epic day of singletrack. Don't forget that it's never too late to train for mountain biking. Check out our strength training interval workout for cyclists.
3. Peak Bagging
Many locals and visitors alike fixate on climbing the state's 54 "fourteeners" in Colorado, or peaks above 14,000 feet. While these iconic peaks offer everything a peak bagger could dream of, they are popular to a fault.
According to estimates by the Colorado Fourteeners Initiative, the 12 most popular 14ers draw more than 15,000 hikers each year. In contrast, the state's 600 peaks above 13,000 feet—many of them more challenging and remote—attract a fraction of the traffic.
With many 13ers lacking a trail to the summit, guides can help you summit some of Colorado's more rugged and dramatic peaks that offer more solitude than social media clout. If you're more keen on discovering some of the best hikes near Denver, give this article a read and try something new that's not too far away.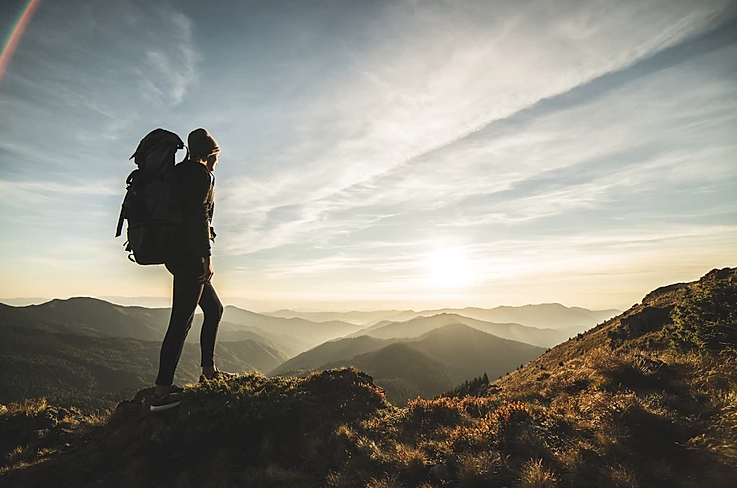 4. Hiking To an Alpine Lake
The quintessential Fall adventure mountain experience might be the most simple: hiking to an alpine lake. There are few Fall activities as rewarding as following a colorful trail that leads to a scenic lake, taking in the beauty and hiking back down.
Gourmet trail snacks and a cooler waiting back at the car have nothing on a crystal-clear alpine lake in terms of hiking or running motivation. Blame Instagram for crowding every azure body of water above treeline, but hiring a guide betters your chances for finding a high country lake all to yourself.
5. The Destination Road Ride
According to Gear Patrol, America boasts the most extensive road network in the world, with 4,092,730 miles of public pavement, dirt and gravel spanning from California to Maine (and some wild routes winding through Alaska and Hawaii). A guide can help you narrow down the routes to determine the best two-wheeled experience possible. Whether you're craving a winding climb to a summit, a town-to-town cruise or a coastal meander, road biking might be the ultimate activity for experiencing new surroundings.
Want to read about some of the most epic Colorado Fall activities you can do for your next adventure? Check out this post with activities that'll please even the most outside-adverse.