Guide Calendar - Blocked Time Update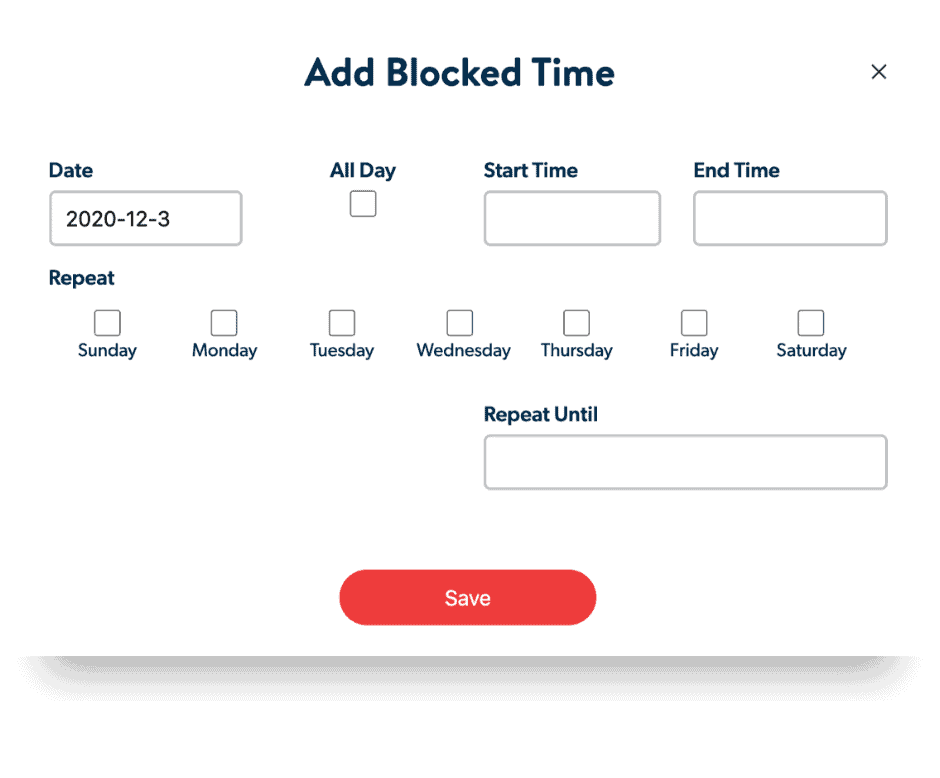 Now guides can block entire days as well as repeat blocked times on their calendar.
This is useful for guides who are unavailable to lead a trip for entire days as well as repeating days they cannot guide. Having the ability to block time from their calendars gives guides more control over their schedules and helps tour operators know who is available to guide a tour.
You can access this feature by clicking on My Schedule on the left side panel under the Guide section. From there, click Add Blocked Time. Choose the date you are unavailable and check the All Day box if you are unavailable the entire day. If this is a repeating event, select the repeating days and end date for this specific blocked time.
Mobile Checkout Page Update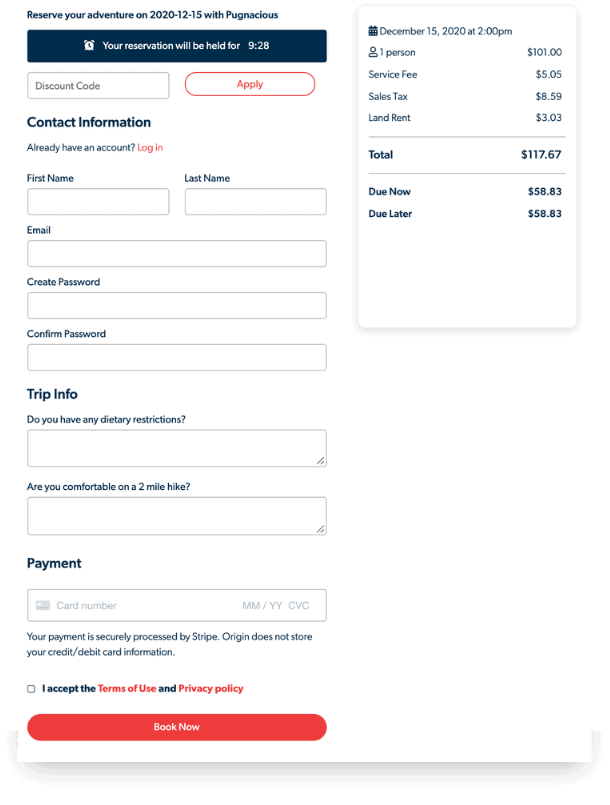 We've updated the mobile checkout page!
We've cleaned up the page, updated the checkout flow, and better display the cost breakdown so customers can see how much they're paying. This will help prevent questions related to a trip's final cost (after service fees, sale tax, and any land rent fees are applied).
Customers will see the checkout page before finalizing their booking.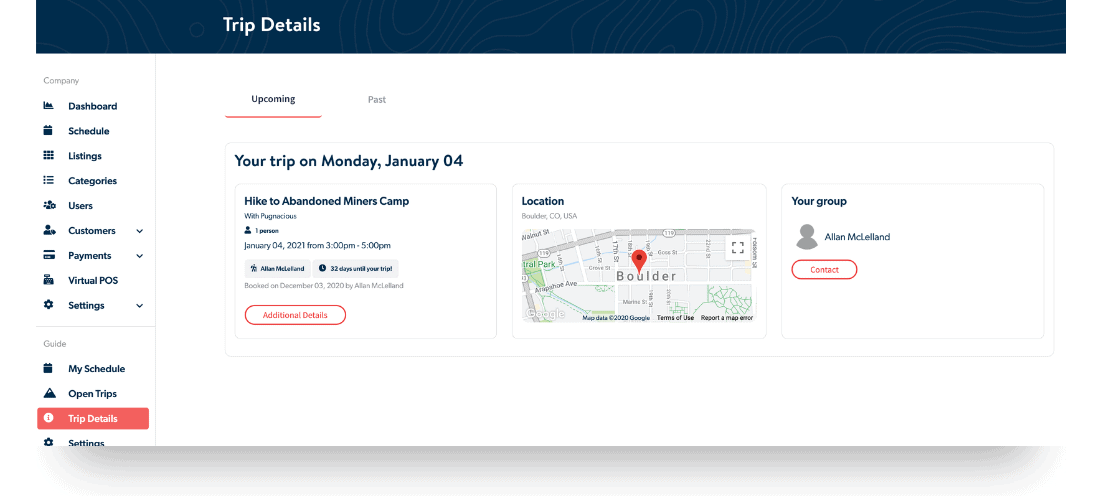 Guides can now access a "Trip Details" page to see all information about their upcoming and past trips.
You'll be able to view your group participants and email customers.
To view your trip details, click on Trip Details in the left side panel under the Guide section. From there, you can toggle between Upcoming and Past trips.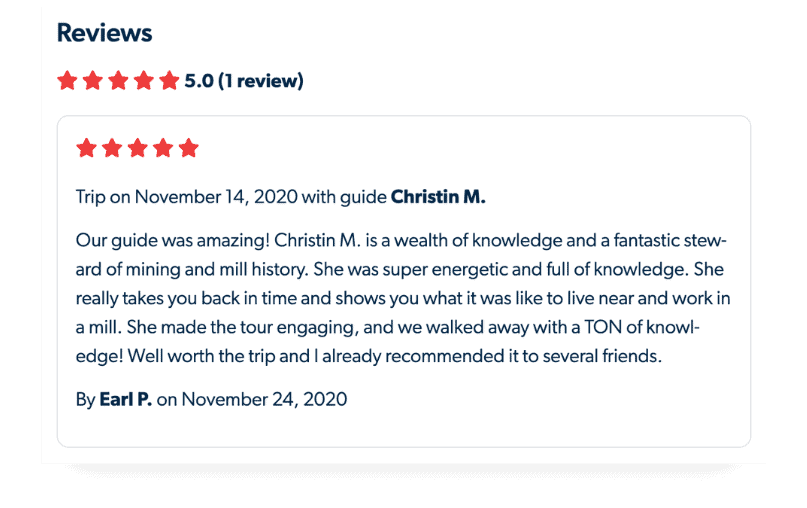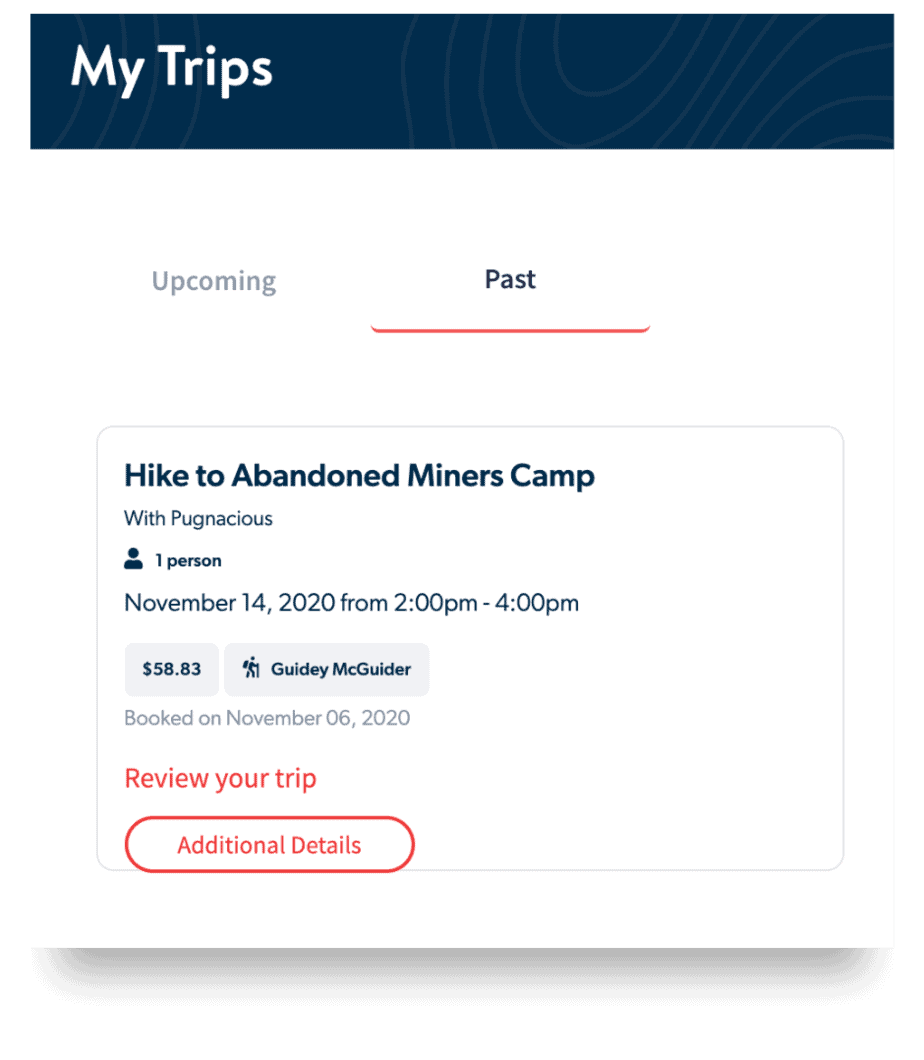 We've now added the ability for Adventure participants to leave a review.
This helps you develop trust with potential customers, they make you more visible, and they have a clear impact on sales. Most travelers read reviews before booking a trip, hotel, airfare, and guided tour. Travelers trust reviews because they're looking for "social proof" that your offer is the best one. Having reviews on your Adventure listing lets adventure-seekers see what others think of your company.
There are several ways for a user to add their review:
If they revisit the listing page and have previously booked but not reviewed, they will be prompted to review.

If they visit their My Trips page in the Past tab, they have the option to review their trips.

They will receive a link in the "review request" email that is sent after a trip is completed.

We've added a MailChimp Integration for you through an API (application programming interface).
For operators using MailChimp as their marketing automation platform, when a user books your listing they will automatically be added to your Mailchimp audience. This is great addition to our platform because staying connected with customers is key to growing your business.
Having a MailChimp/Origin integration seamlessly updates your audience so there's no additional workload to keep your marketing platform up-to-date.
To access this, click on the Settings tabs under the Company section in the left side panel. Then click Integrations. Paste your API key in the Mailchimp API Key field (Here's how to generate an API Key in MailChimp). Click Save. Customers' contact information will automatically sync to your MailChimp Account. From there, you can segment or group your audience however you like.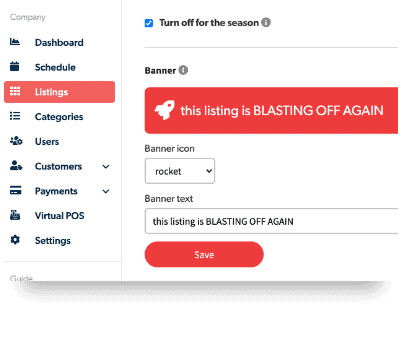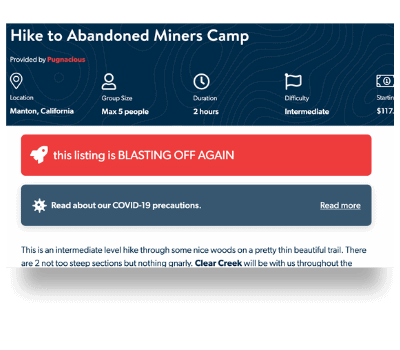 You can now add a customizable banner to listings.
For operators who want to add a note to a listing to signify a trip that's selling out fast or a trip with limited quantity, you can easily do it now. This helps you by creating a sense of urgency for potential customers. It can also be a spot to notify guests of pertinent information.
Click on the Listings tab in the left side panel. Find the listing you'd like to add a banner to and click the paintbrush icon under the Edit Listing column. Select the Banner Icon and enter your note in the Banner Text field. Click Save when you're ready to publish.
To remove the banner, simply delete the text from the Banner Text field and click Save.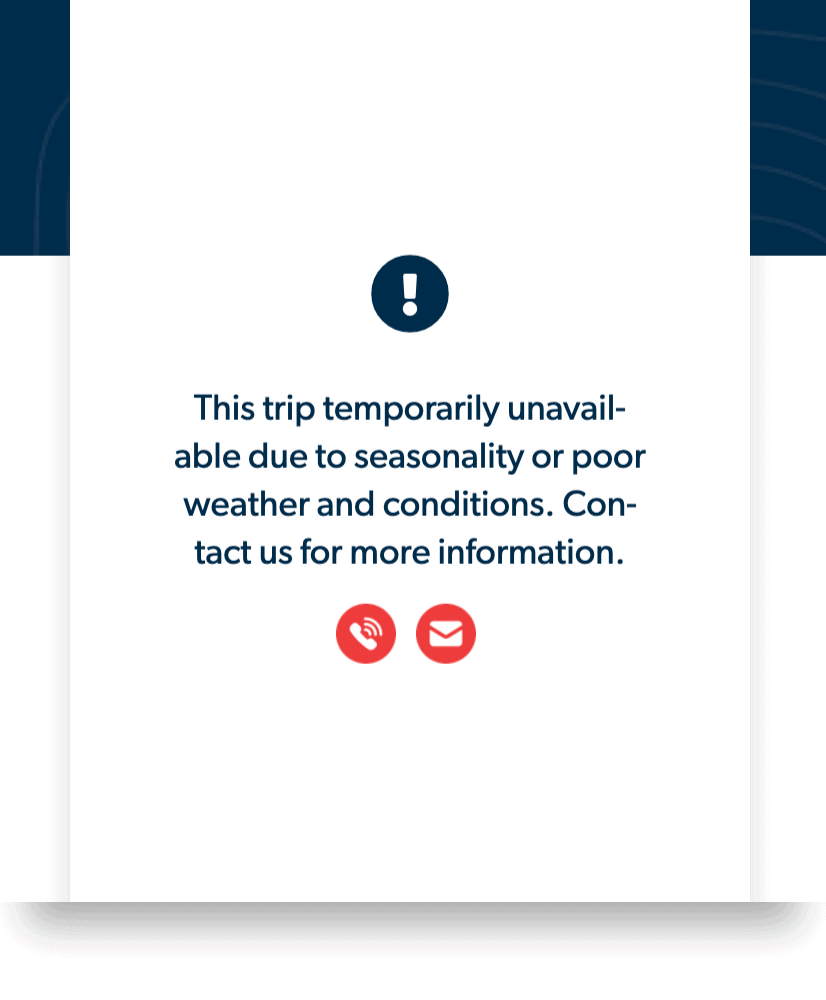 Administrators now have the ability to turn off their listing(s).
This is a valuable update for guides who work during certain seasons. Instead of deleting your trip and recreating it when you're back up and running, this update allows you to turn off your listing during your off-season.
This also informs customers about the trips you offer for next time and it prevents customer confusion when they see a date picker without available dates.
To use this feature, click on the Listings tab in the left side panel. Find the tour you'd like to turn off and click the paintbrush icon under the Edit Listing column. Click the box next to "Turn off for the season" and click Save.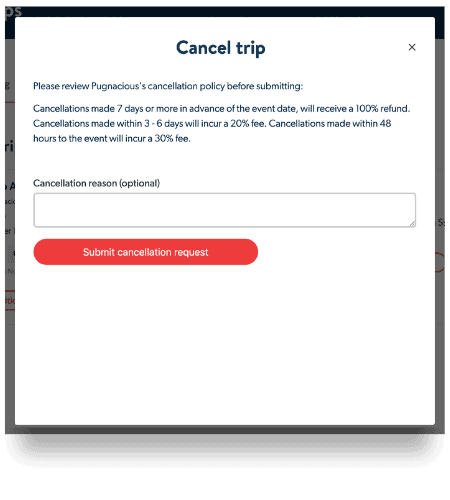 Users can now submit a cancellation request from their My Trips page.
The company administrator will receive an email alerting them there's been a cancellation request. They can then take action from there based on their cancellation policy.
In the age of COVID-19, companies will need to have flexible cancellation policies. Making it simple for a customer to cancel their booking generates more trust between you and your customer. You can use this opportunity to maintain contact with them to prompt customers to reschedule.
From your dashboard, click My Trips under the User section in the left side panel. Under the trip you wish you cancel, click the light grey Cancel Trip link. You'll see a pop-up window to confirm your cancellation request.
Administrators will receive an email for the cancellation request and can either approve or reject the request based on their policies.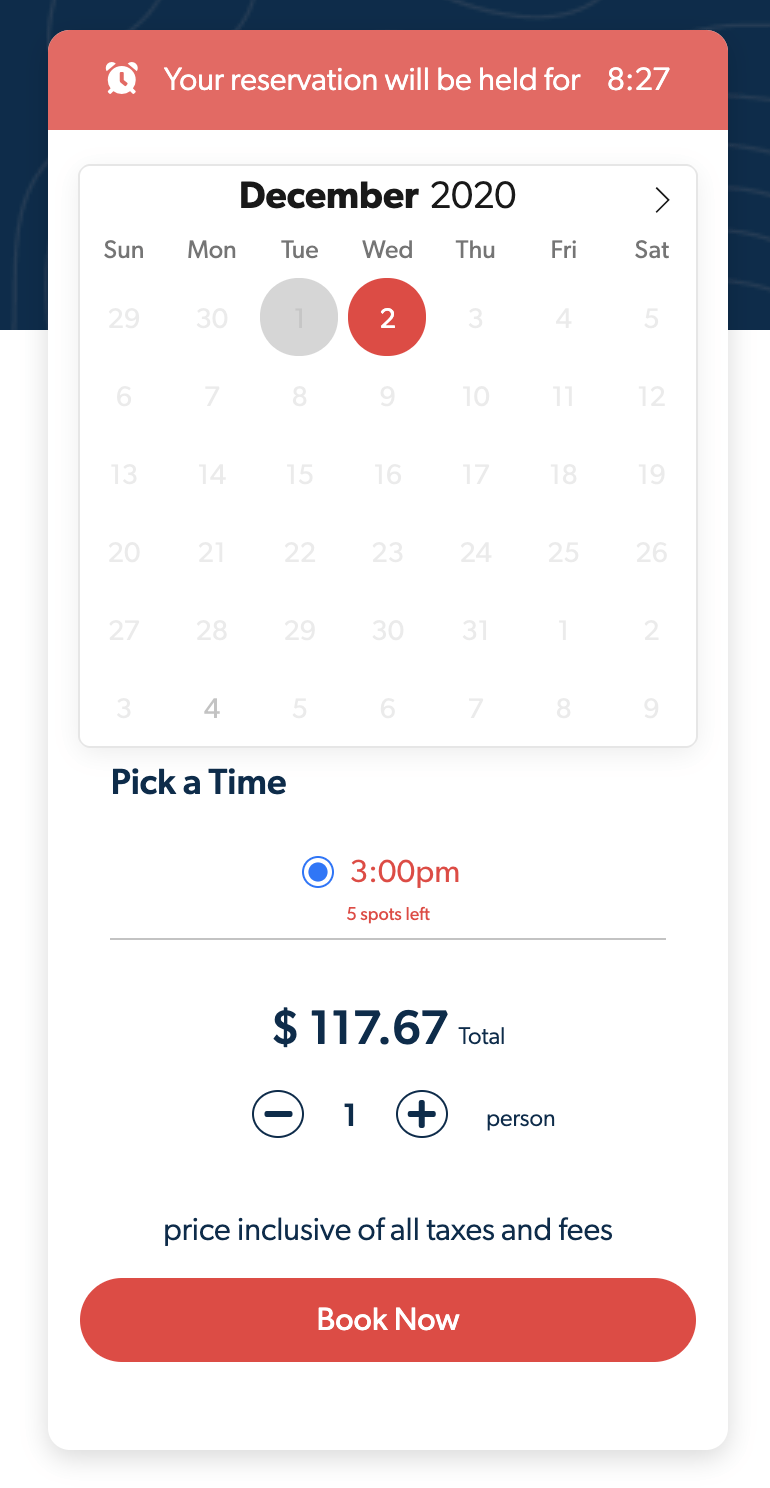 We've just added a booking holds feature. When a user selects an adventure they would like to book, there is a hold placed on it for 10 minutes. During this time no other user can book the trip unless the timer expires and the adventure isn't reserved.
This helps guiding companies to prevent overselling bookings or frustrating users who go to book an Adventure and come to find that there are no open spots left when they checkout.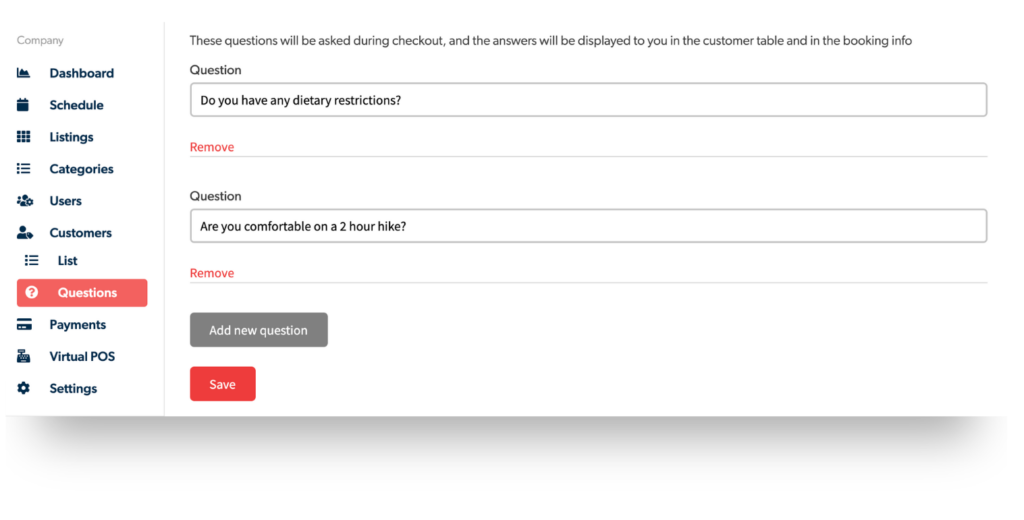 We've added custom question fields for companies! Company administrators can create questions that show during the customer checkout process. These answers are visible and editable on the customer's page.
This will help guides tailor and personalize adventures for customers. For instance, you can ask if customers have any dietary restrictions or physical limitations. You can review answers from the customer table and within the booking itself.
To create custom questions, click on Customers under the Company tab in the left side panel. Then click Questions. Click Add New Question. Then click Save.
Ready to try it out? Click here.
Add COVID-19 Precautions Information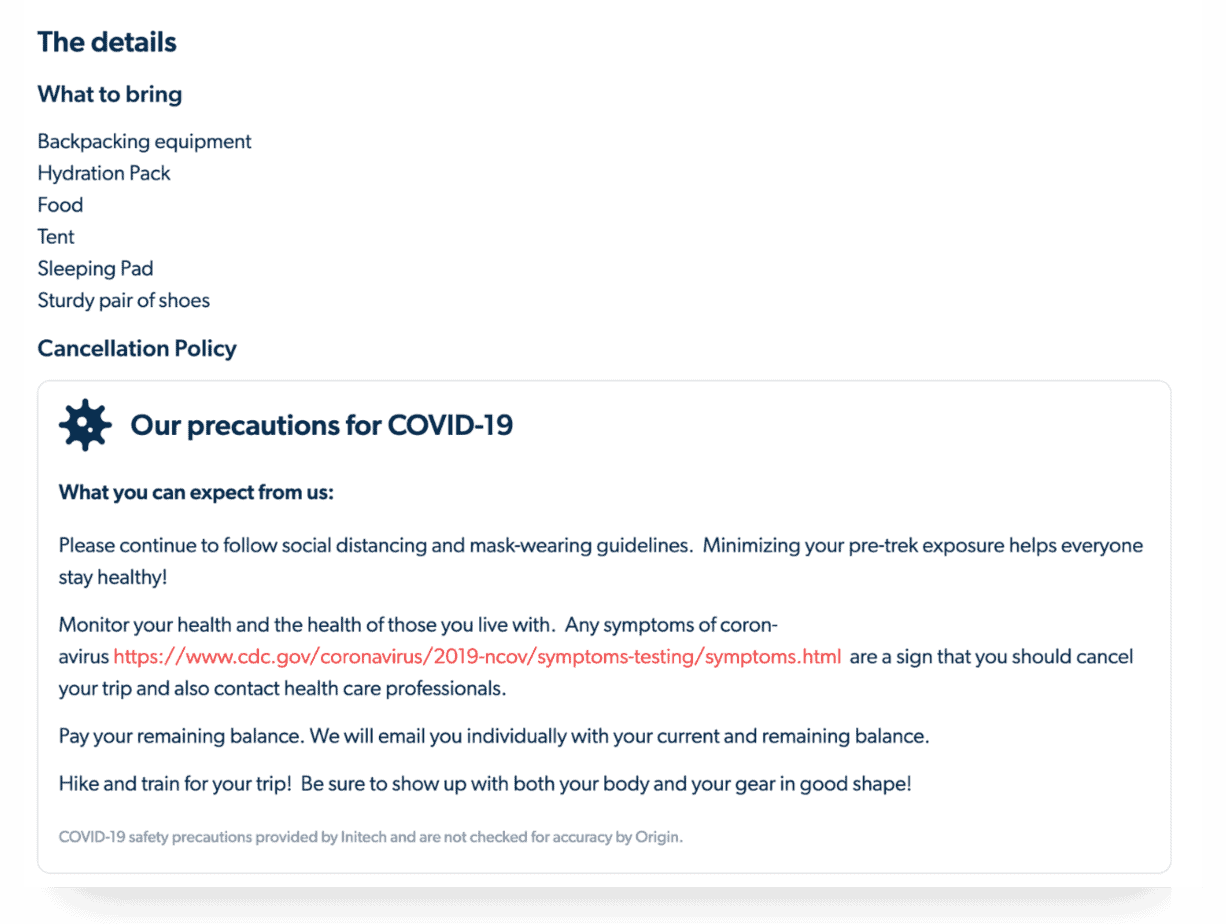 Guiding companies can now add any precautions they're taking for COVID-19. 
The number one traveler concern right now is precautions taken by guiding companies against COVID-19. This can include safety measures, sanitation between travelers, and social distancing efforts you're taking to keep travelers safe and give them peace of mind when booking with you.
To update your COVID-19 policy, click Settings under the Company section in the left side panel. Then click Edit. Scroll to the bottom of the screen and enter your COVID-19 precautions in the COVID-19 Policy section. Then click Save.
Add Blocked Time on Calendars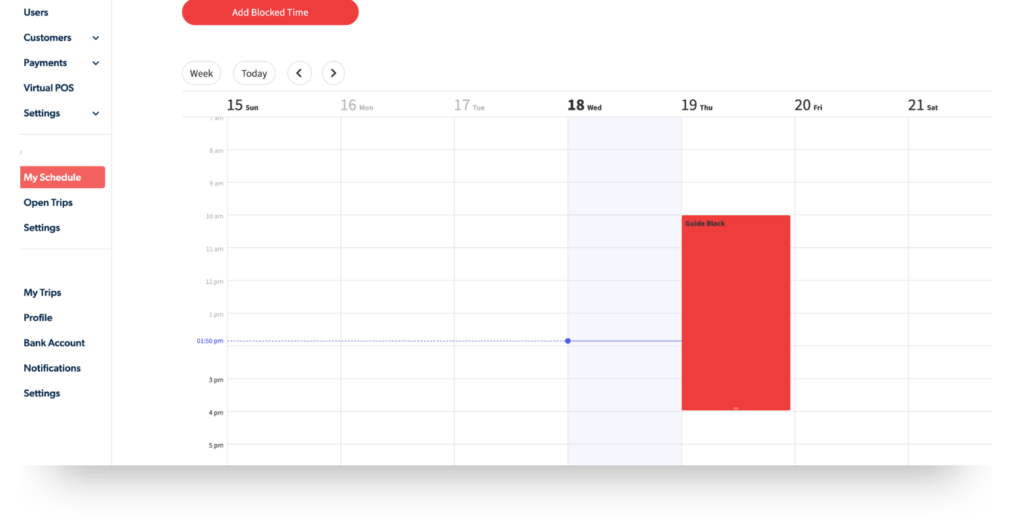 Guides can now block off time on their calendar.
This will prevent guides from being booked during the same time frame. This is useful for guides who cannot lead an Adventure during a certain period of time. This also helps outdoor guiding companies prevent scheduling mishaps that can happen when a guide is unavailable.
To schedule blocked time, click on My Schedule under the Guide section in the left side panel. Then click Add Blocked Time. Choose the date on the calendar and add a start and end time. Then click Save when you're done.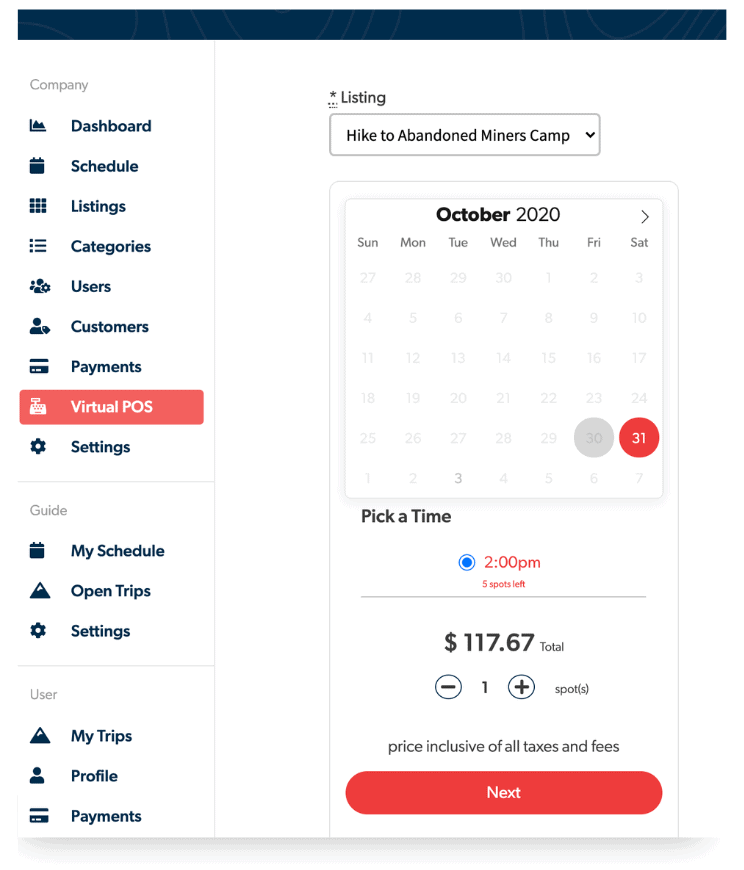 We've added a dedicated virtual Point-of-Sale (POS) page so companies can book customers over the phone or in-person.
Our virtual POS page is helpful when you have a customer who prefers to book with you over the phone or in-person. Keeping all your bookings in one secure location keeps you organized, eliminating the possibility of allowing a customer to fall through the cracks.
From your dashboard, click Virtual POS in the left side panel. Click Next and enter in the customer's information.
Guides Can Belong to Multiple Companies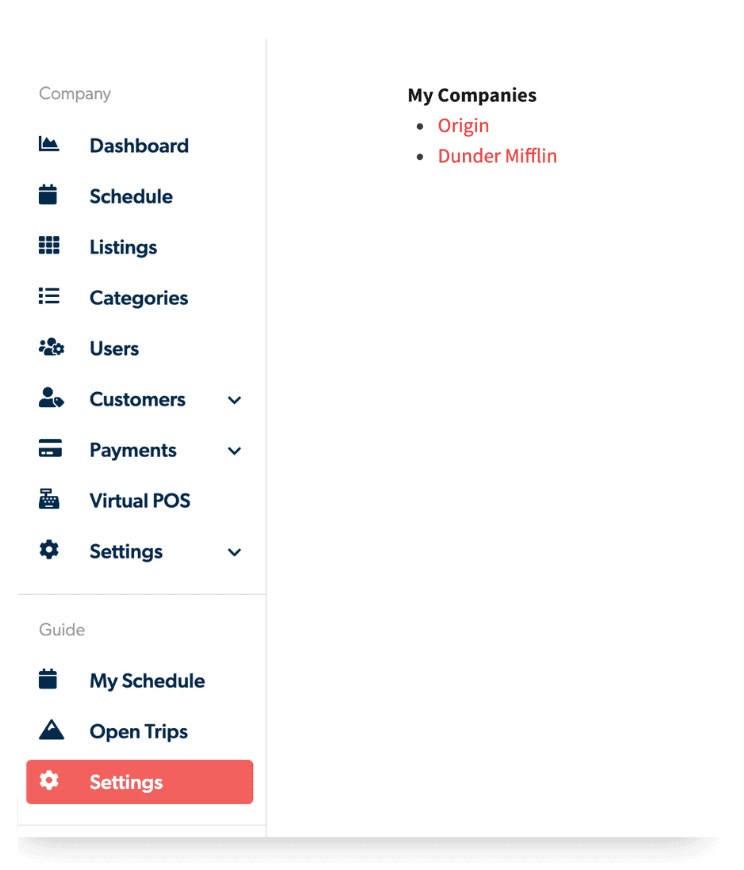 Now guides can belong to multiple companies.
This helps guides stay organized. They can see their open trips across all companies and all bookings from their dashboard.
When a company administrator invites an existing guide with the same email, it automatically adds them to the second company. If a guide wants to see which companies they belong to, they can view this by clicking Settings under the Guide section.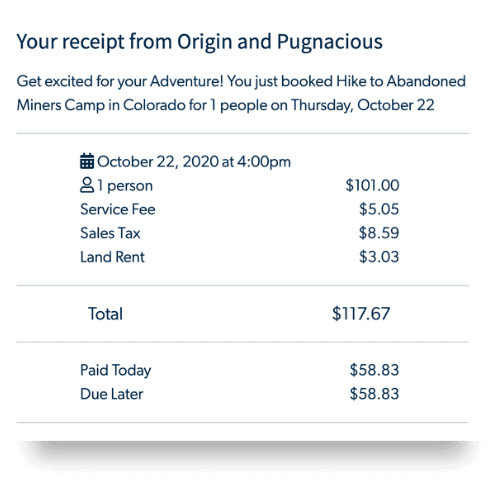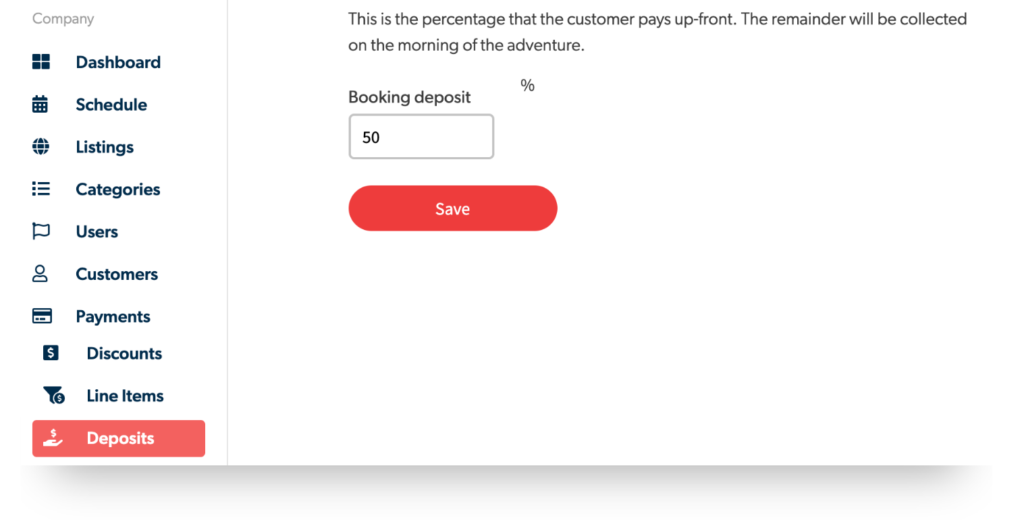 We've just added deposit functionality. The default setting is 100%, which means the full amount will be charged at checkout.
You can now set what percentage of the payment you would like to collect up-front. On the day of the Adventure (or earlier if you prefer), we will charge the remaining amount. 
From your dashboard, click Payments in the left side panel. Then click Deposits. Enter the percentage you will accept as a deposit prior to the Adventure. Click Save.
Ability To Add Line Items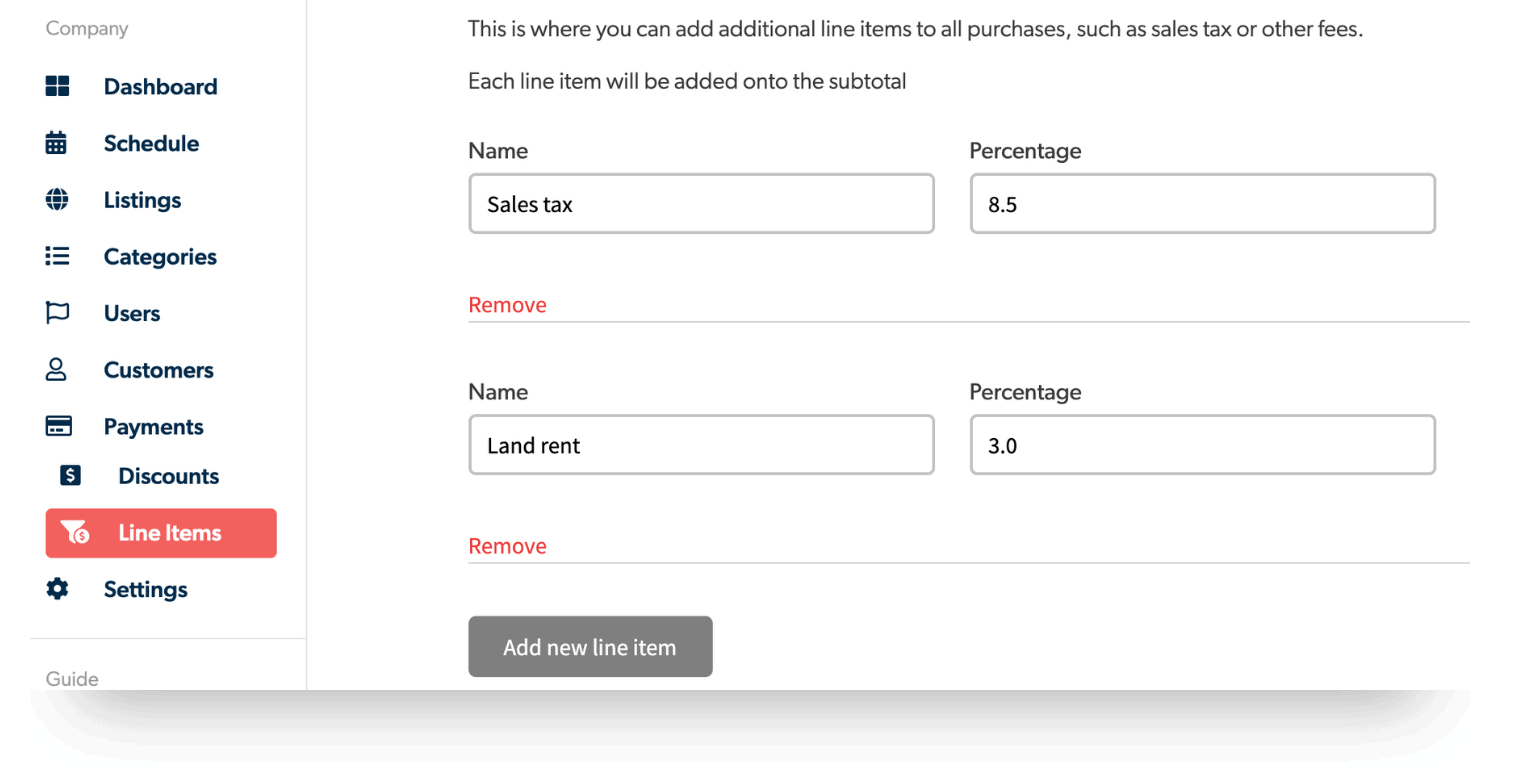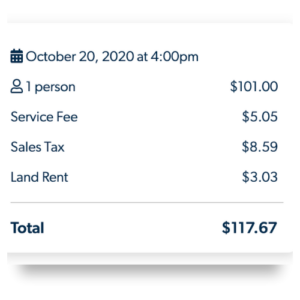 Now you can add arbitrary fees to your payments, which are calculated in the subtotal and reflected in the final total.
This is beneficial when your organization needs to charge a sales tax or a private land use fee. You can add these as line items to the customer's total. 
From your dashboard, click Payments in the left side panel. Then click Line Items. Give your line item an easily identifiable name and add the percentage. Click Save.
New Links Modal Added To Listings Table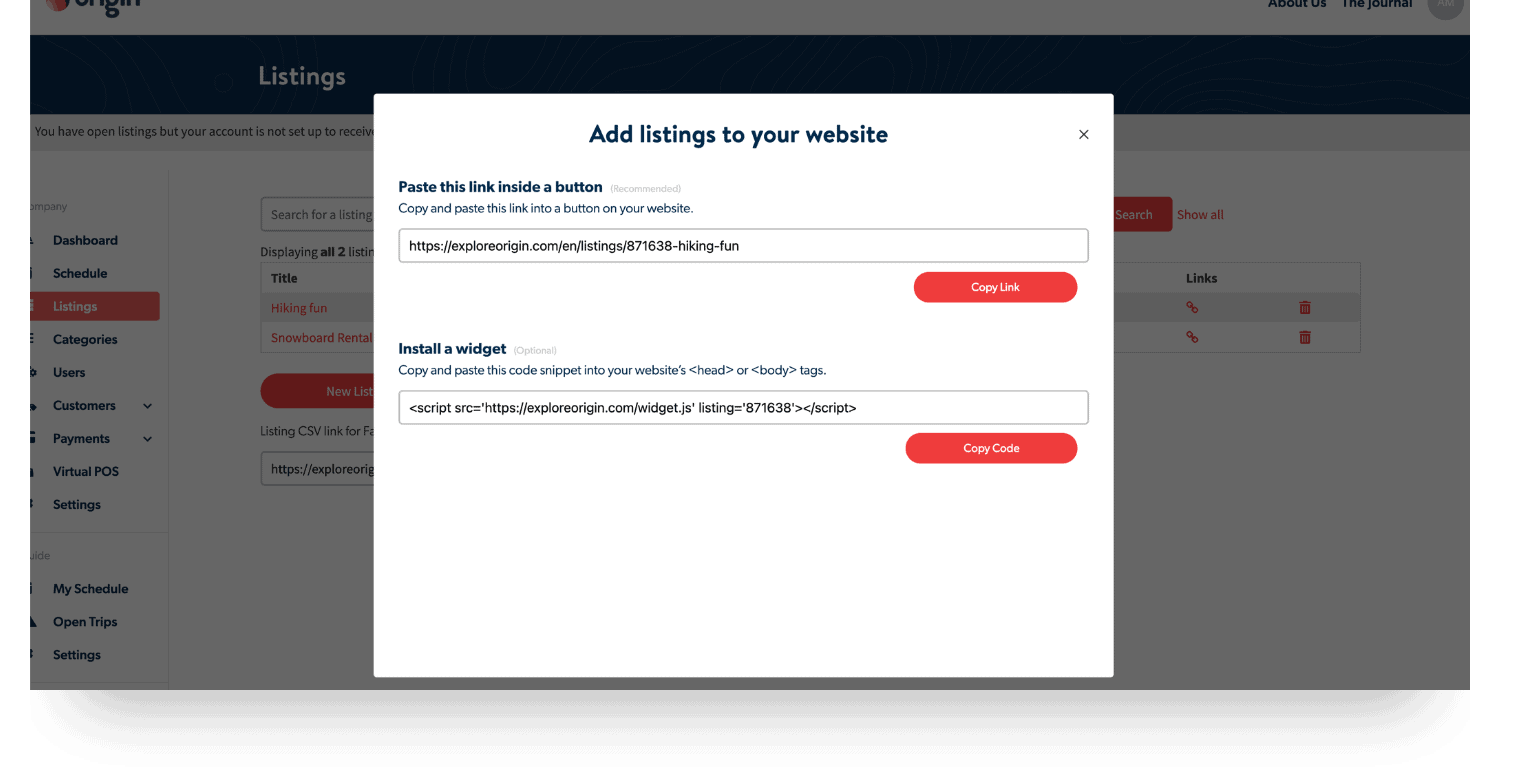 We've made it super easy to add listings to your website.
This addition will be helpful when linking your website to Origin's marketplace. Origin doesn't complex code to work. All this requires is copying and pasting the linking and pasting it in the appropriate spot.
From your dashboard, click the Listings tab on the left side panel. Find the listing you want to link to from your site. For additional help for a specific website, click the following links:
Default guides on listings
Guided Listing Creation Process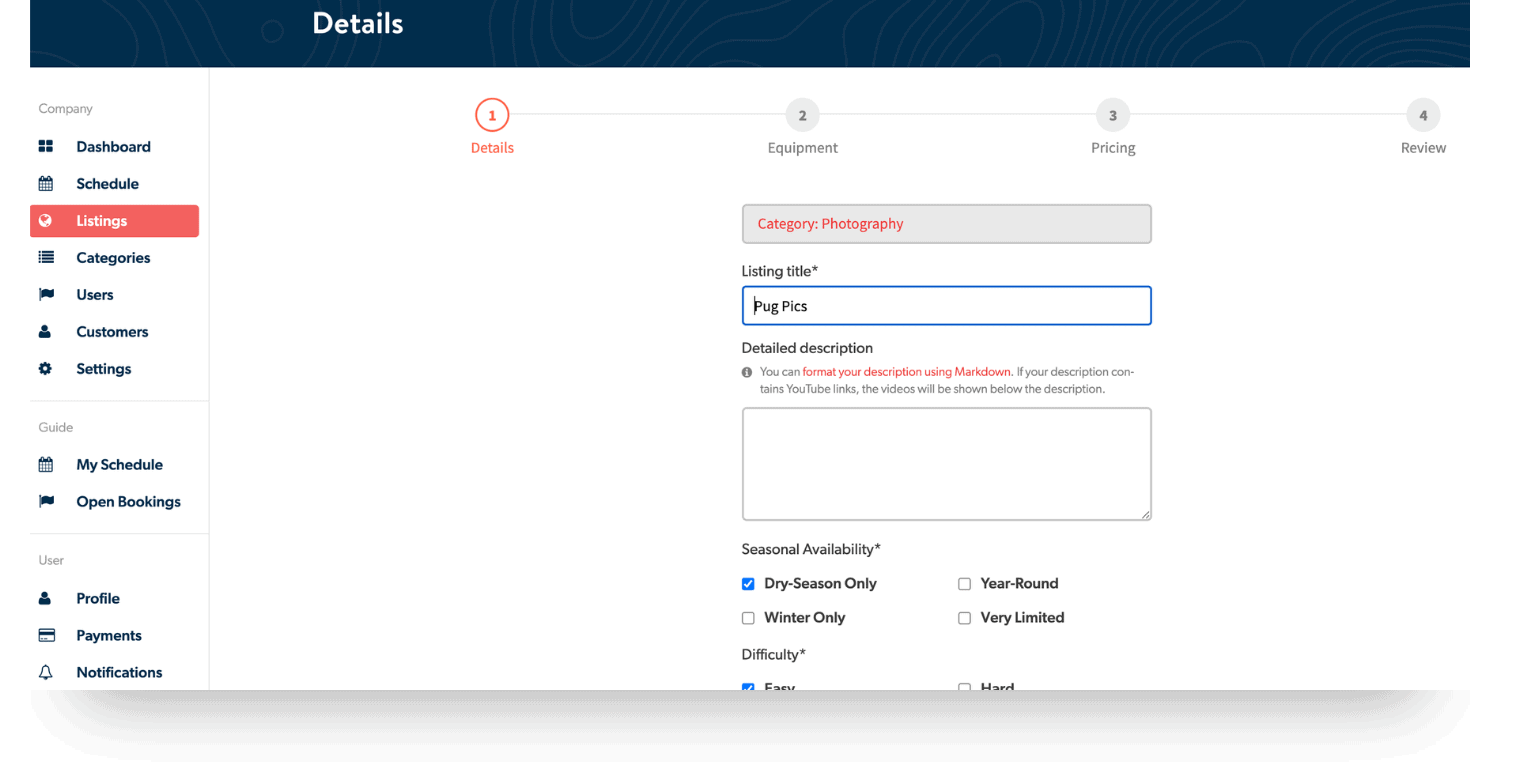 We added a guided process to help you as you create a new listing.
When you create a new listing, the system will guide you through everything you need to add. This will help you to include all the important information for your guests. You then have an opportunity to preview your listing before publishing it.
This also includes the ability to have draft listings and to save them for later.
From your dashboard, click on the listings tab in the left side panel. Then click New Listing. From here, the system will guide you through the listing creation process.